Guys!!! It is with great pleasure, joy, all round excitement and extreme happiness that we present to you the FULL LINE UP for the launch of the Inspired by Glory Career Development Hub for working Women- #9to5Chick. The launch will take the form of a career development seminar tagged "How to Become the CEO of your Career- Career Development Tips for the Working Woman".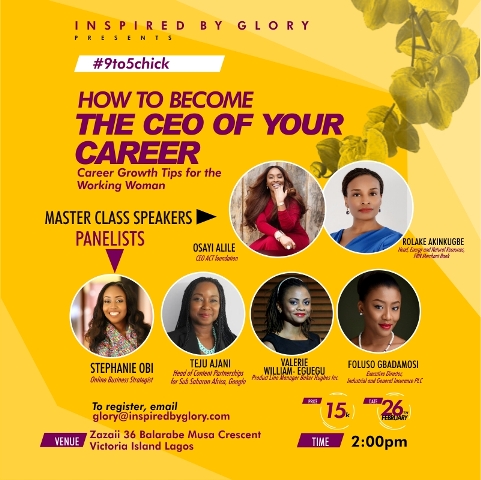 As part of the seminar  we will have 2 master class sessions delivered by highly recognized career women in the persons of Osayi Alile CEO of ACT foundation (Former Executive Director of FATE Foundation and Former Chairperson of WIMBIZ), Rolake Akinkugbe Head of Energy at FBN Merchant Bank including panel sessions with Valerie Eguegu Product Line Manager for Baker Huges, Foluso Gbadamosi Executive Director Industrial and General Insurance, Teju Ajani Head Content Partnership Manager Sub Saharan Africa Google and Stephanie Obi, respected Online Business Strategist…
Meet Our High Profile Career Women and Speakers
Master Class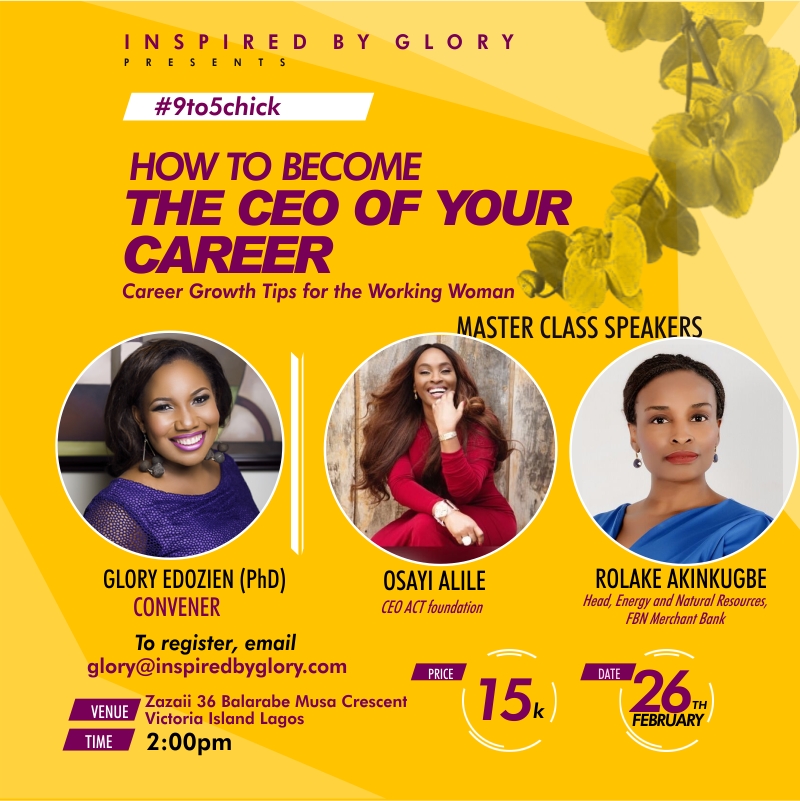 Osayi Alile CEO of ACT foundation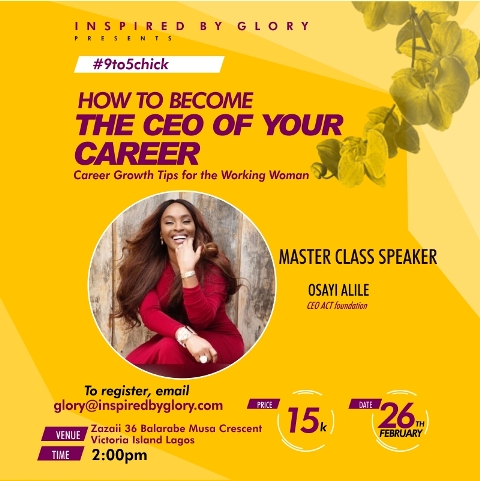 A 2007 "Young Global Leader" (YGL) by the World Economic Forum, a Fellow of the African Leadership Network and an alumna of the Harvard Business School, IMD and Yale Executive Education Programs, Ms. Alile holds a Bachelor of Science degree in Sociology from the University of Lagos and a Master's degree in Public Administration from Rutgers University, New Jersey, USA Pi Alpha Alpha.
Ms. Alile is the CEO ACT Foundation and consultant for Access Bank Plc on its CSR projects, Ms. Alile was the Executive Director of FATE Foundation, a leading private sector led not-for-profit organisation in Nigeria for 8 years.
A facilitator/management trainer, she is also a consultant on non-profit management and strategy. A Sustainability Expert and Speaker, Osayi is the founding curator, Global Shapers Forum Nigeria. Owing to her experiences, Osayi sits on the board of several organisations that includes Immediate past Chairperson Women in Management, Business and Public Service (WIMBIZ), House of Tara, Chairperson, Zapphire Events, Culinary Academy and Global Dignity, an affiliation of the World Economic Forum in Norway.
Rolake Akinkugbe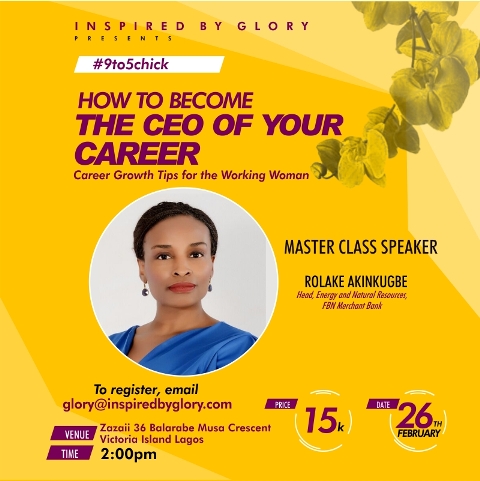 Rolake Akinkugbe joined FBN Capital in May 2014 as the Vice President and Head of Energy and Natural Resources. In this role, she leads investment banking deal origination in the energy and natural resources sector and manages key sector relationships for FBN Capital. Prior to this role, Rolake was Head of Energy, Oil and Gas Research at pan-African Ecobank Group. She managed the desk's research output and provided advisory support to the Corporate and Investment Banking arm with its energy strategy across 33 countries. In 2012, her research team won the Africa Investor Index Series Awards for Best Africa Research House.
Rolake has also worked as the lead country risk analyst for Francophone and Anglophone West Africa and the Gulf of Guinea for Eurasia Group as well as Senior Africa Analyst in the global risks analysis team of Control Risks Group. She is a frequent media commentator and is a regular review of global newspaper headlines on BBC World News since 2012.
In August 2015, Rolake founded and launched InaTidé, a curated funding platform and social impact initiative that sources both finance and technical expertise for off-grid energy projects in Sub-Saharan Africa. She was also awarded the Best Africa Oil and Gas Analyst of the year and Most Valuable Player on the Oil Patch Award prize by Energy & Corporate Africa in April 2015. She holds a B.Sc. in Government and M.Sc. in International Relations from the London School of Economics.
Panelists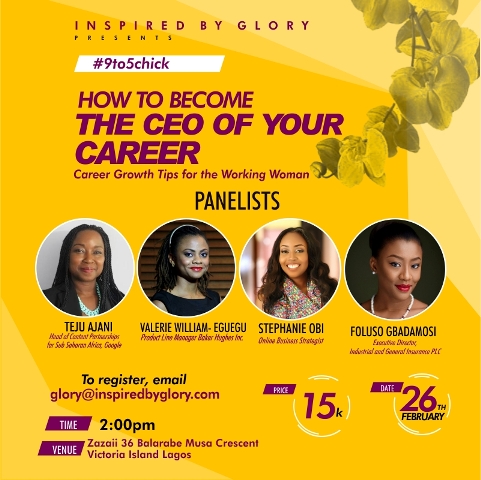 Valerie Eguegu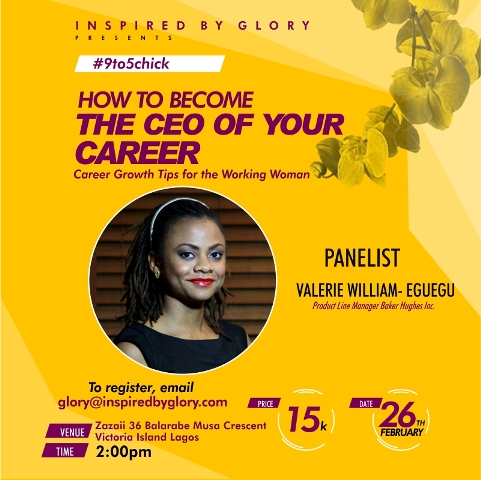 Valerie Eguegu is a dedicated professional with over 15 years of technical and managerial experience within oil and gas sector. Highly skilled in developing profitable business relationships whilst providing internal employee development and team effectiveness. Valerie Experienced in all aspects of project engineering and management; from conceptual studies through to completion. So far, she has been involved in 14 different major projects ranging in value from $1M USD to up to $15Bn USD, which included several technologies, onshore and offshore in Oil & Gas, specialist and licensed technologies including Refineries & Chemicals. She has also worked in six countries, but with projects all around the world in 11 countries
Valerie graduated with a first class honours degree in Chemical Engineering with Process Control from the University of Bradford, England. She is employed as a Product Line Manager for Baker Hughes Inc. Managing the Artificial Lift Business across up to 10 countries in West and Central Africa.
Foluso Gbadamosi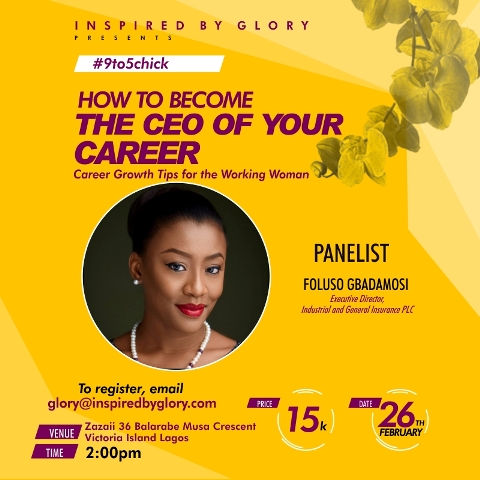 Foluso Gbadamosi is the Executive Director of Human Resource, Administration & Information Communication Technology and Executive Director, Industrial & General Insurance (IGI) Plc. Prior to her current role she was the Director of Operations for Monarch Communications and also served as a Client and Site Service Manager for Procter and Gamble. Foluso is an alumnus of the George Washington School of Business as well as the Women on Boards program in collaboration with the IE Business School, Madrid and WIMBIZ.
Teju Ajani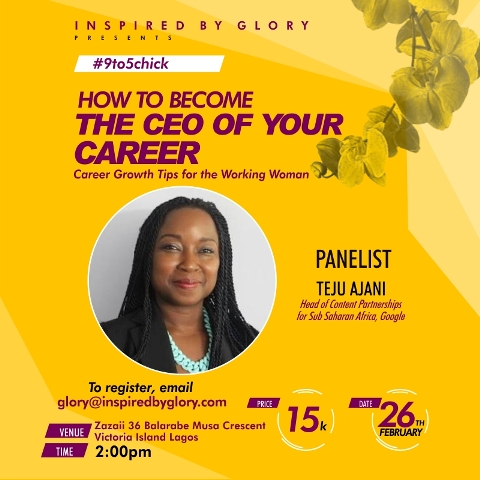 Teju Ajani is the Head Content Partnership Manager Sub Saharan Africa for Google. She is an enterprise software specialist with experience in development, customer support, systems engineering and marketing with a strong focus on customer advocacy and management.
As a self professed geek with varied work and life interests, Teju and is a strong advocate for women in leadership
Teju also has business focused experience in organizational evaluation, strategy development and measurement combined with extensive experience doing business across Africa. Teju has worked in various software companies such as VMware and Oracle
Stephanie Obi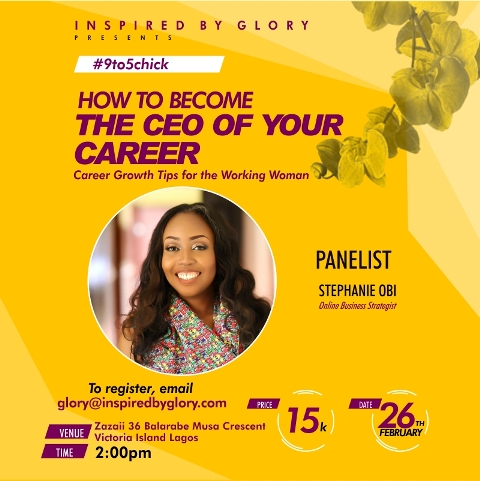 Stephanie Obi is a leading and highly respected online business strategist in Nigeria. As a marketing and digital media expert, Stephanie provides expertise on how digital entrepreneurs can expand their customer reach through building Online Empires. Specifically, Stephanie works with people who use technology to scale up their impact and income through Online Courses, Online Coaching Programs, Online Marketing and Online Platforms. Her brand has been featured on and has worked with many notable platforms including Ebony Life TV, Guardian woman, Lagos Business School and Enterprise Development Center
What will I gain from attending the workshop?
Participants at the seminar can expect to gain
The importance of taking ownership of their careers
An understanding on the importance of contributing directly to organizational goals and objectives
Work place accountability and necessary skills for optimum performance in the work place
Career growth hacks,
How to deploy work based strengths when working in a team
Networking and relationship building skills
Effective communication for career growth
We are sure all participants will have a thoroughly impactful and engaging time.
To register please complete registration form here
Payment of 15,000 per participant can also be made
here 
Trust me Sunday 26th February is going to be LIT!
For more information, you can email glory@inspiredbyglory.com