Yay! Its Wednesday and you know what that means! Its time to reveal our woman crush of the week. this week its all about or girl boss and travel connoisseur Chiamaka Obuekwe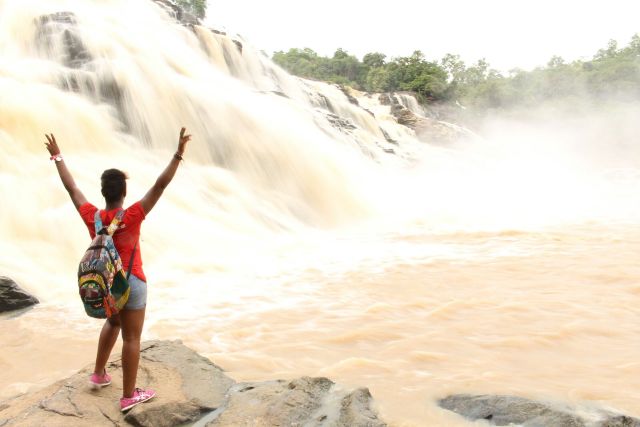 Meet Chiamaka Obuekwe
Chiamaka Obuekwe is an explorer, travel blogger and tour guide. She is the founder of the Innovative Social Prefect Tours – a tour operating company that promotes African tourism and connects people. Social Prefect tours organizes group tours, school excursions, corporate retreats, holiday packages and also offers tour guide services within Africa, especially in Nigeria to educate people about the beauty within. The company also creates packages for foreigners who come into Nigeria and take them tourism expeditions. Chiamaka is travel expert who is really passionate about changing the face of tourism in Nigeria.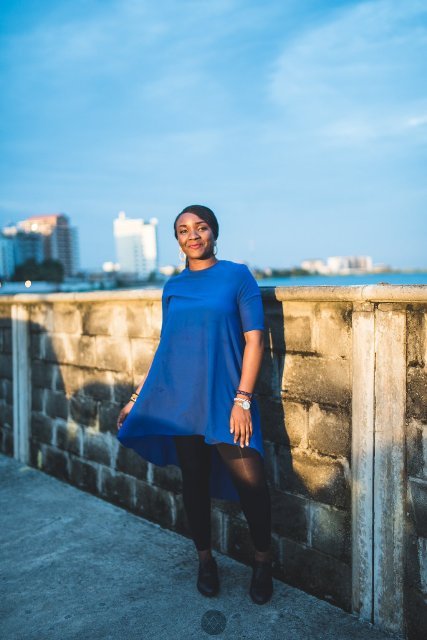 Chiamaka has travelled to 25 states and has fully explored 19 of these, discovering beautiful tourist attractions in Nigeria and sharing them with the world. She has also worked on tourism projects such as Explore Bauchi with the Bauchi state government. Her work has been featured on various media platforms and she has been interviewed on popular media platforms including Guardian, This Day, Ebony Life TV, Wazobia TV, Classic FM, Everything digital, just to mention a few. She was named as one of the 5 bloggers of 2016 according to Guardian life and was also selected amongst top 50 Nigerian women to be celebrated by Maggi during their 50 years anniversary campaign.
Chiamaka is a Travel writer and contributes monthly to Guardian life magazine and also writes on her blog www.socialprefect.net
Check out our exclusive feature and interview with Chiamaka Obuekwe
IBG: What is the biggest motivation behind your brand?
CO: The biggest motivation behind my brand would be to show the world what Africa especially Nigeria has to offer. Nigeria is being referred to more in the negative light. I am motivated to share with the world, the beautiful and positive parts of this country.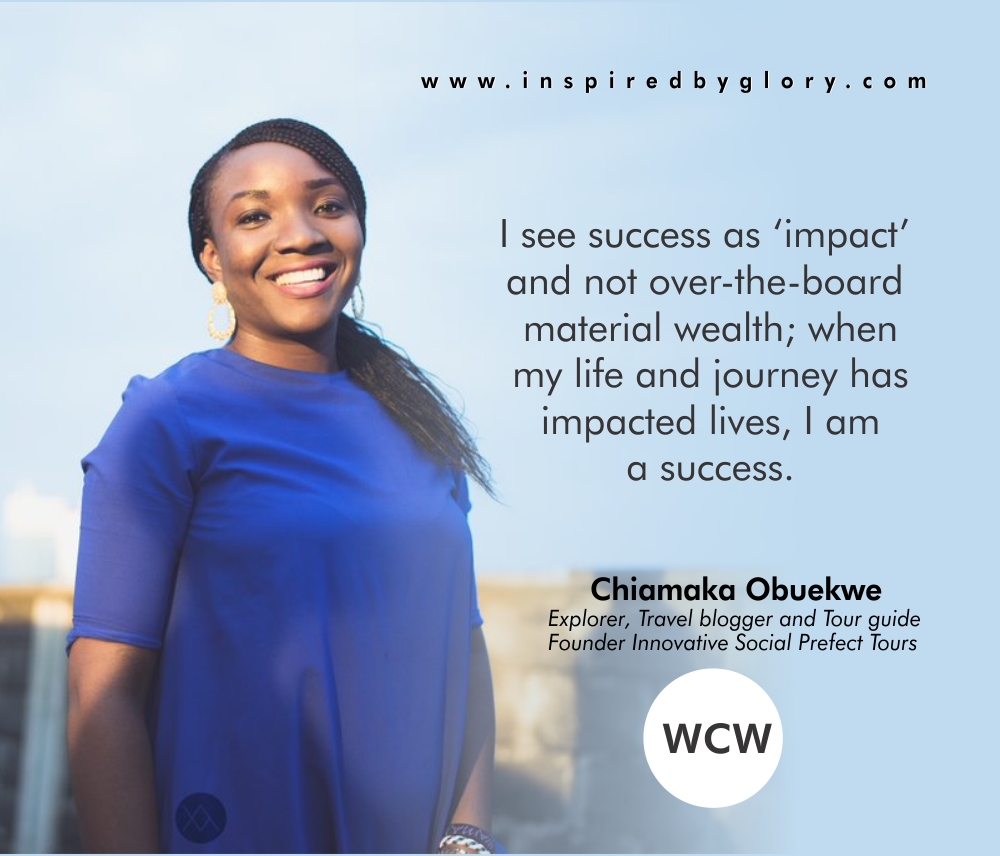 IBG: How do you define success?
CO: Success to me is a journey, not a destination. I also see success as 'impact' and not over-the-board material wealth; to me, when my life and journey has impacted lives, I am a success. Take Mother Theresa an example.
IBG: What has been your biggest entrepreneurial challenge and how have you surmounted it?
CO: My biggest entrepreneurial challenge has been the same entrepreneurial challenge for almost all start-ups and smes in Nigeria. Which is, the lack of an enabling economic environment, lack of electricity, lack of proper structures to assist businesses, not enough funding, etc. However, we have surmounted these by building our business online. We have worked hard and consistently to grow our brand online and on social media and literally 80% of our clients heard about us online. 10 or 15 years ago, we would have literally had to go to the streets to share fliers for awareness, but now all we have to do is send a newsletter or post it on Instagram and our tour gets sold out.
IBG: What would you say has been your biggest success?
CO: There is a no biggest success for us. The mere fact that we started this brand and we are still growing it consistently is a lot of success in itself. We attain new heights and achieve new milestones every day. But for us, the fact that a foreigner or Nigerian can be more aware of all this country has to offer in terms of tourism and the fact that we can take them there, is our biggest success.
IBG: Which women do you crush on and why?
CO: A whole lot of women inspire me, but my top two are Tara Durotoye and  Nimi Akinkugbe because they have both shattered glass ceilings and broken walls that people say women cannot attain and they are still humble with all the success. I have met with and relate with both of them (more on social media) and I love their personalities.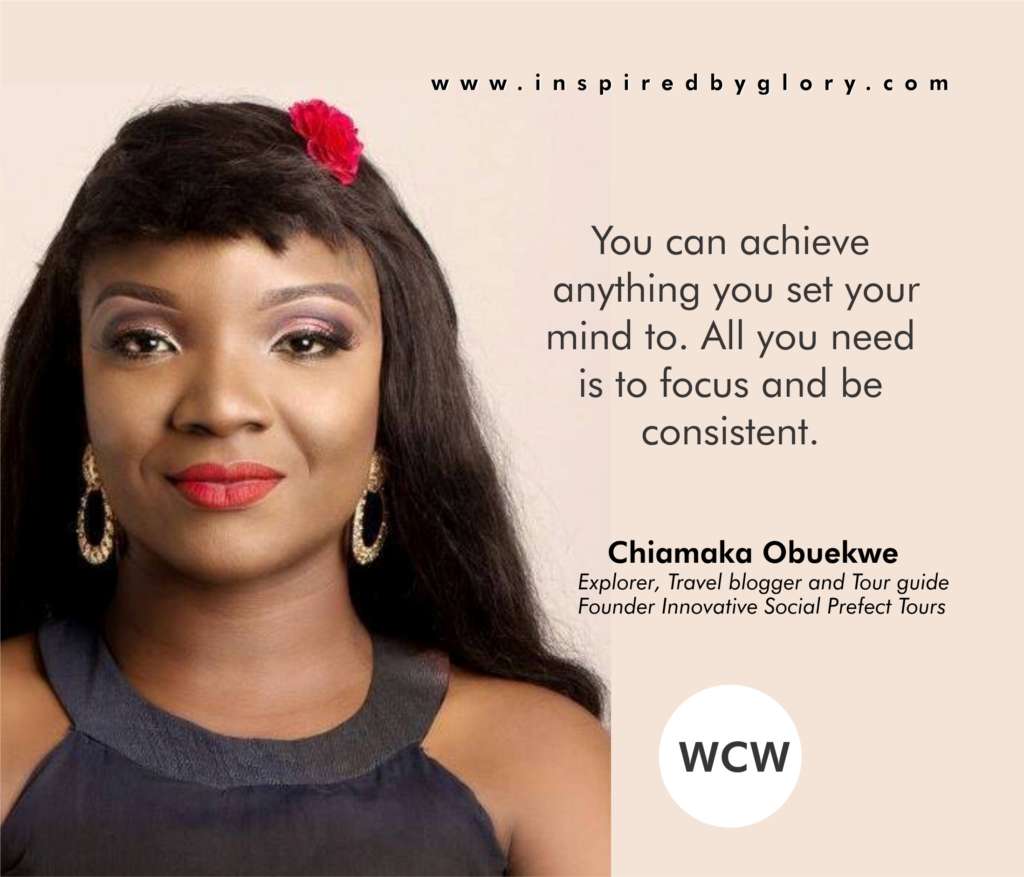 IBG: What are the 3 items you couldn't do without and why?
CO: My phone, my laptop and note pad, because of my work.
IBG: If you could ask your future self anything what would it be?
CO: I would not ask my future self anything, because I am my future self. The work I put in today will create the future self I desire and I know my future self would be a great person.
IBG: What advice would you give your younger self?
CO: An advice I would give to my younger self would be stop caring too much about what people say. Everyone has their own opinion.
IBG: What advice would you give to entrepreneurs?
CO: I would tell them that they can achieve anything they set their minds to. All they need is focus and to be consistent.