Do you feel stuck in your career?
Do you want more from your professional life but aren't sure where to start?
Do you want to change jobs or get promoted in 2019?
Do you want to increase your professional network to include mentors, career sponsors and ambitious peers?
If you have answered YES to any of these questions then the Career Women Networking Mixer is the event for you.
This a Networking event that is created specifically with your career goals in mind!
I meet career women who tell me all the time;
"I feel stuck",
"I can do more than what I am doing now but i don't know where to start"
"I want to change jobs, meet new people and increase my network but I don't know where to start"
So I thought to myself, what if I created a networking event where career women could meet with established career professionals?
What if I found a few of those established professionals who were seeking to mentor young ambitious career women?
What if I placed all these people in the room and threw in some bottomless mocktails, light music and refreshments and created an atmosphere where everyone could mingle, relax, learn and connect?
That's exactly what  the Career Women Networking Mixer is all about
PITCH TO A MENTOR
As part of the event, you will also have the opportunity to 'pitch' to a mentor. Via a Dragons Den/Shark tank type setting, pre-selected attendees will publicly pitch for 3 minutes to a set of mentors, afterwhich, mentors can ask questions, and then choose one career woman to mentor for a period of 4 months.
An event where you can connect with potential mentors, discuss career challenges, get solutions and become ready to crush your career goals in 2019.
At the networking mixer we will have a host of fun activities from speed networking, networking games, and a mentorship pitch competition you don't want to miss out on all the fun and off course the opportunity to find a mentor to help you achieve your 2019 career goals
Here are a few of the established career professionals you will be networking with at the mixer
First meet the pre selected mentors you will be Pitching to
Mr Innocent Chukwuma- Regional Director, West Africa, Ford Foundation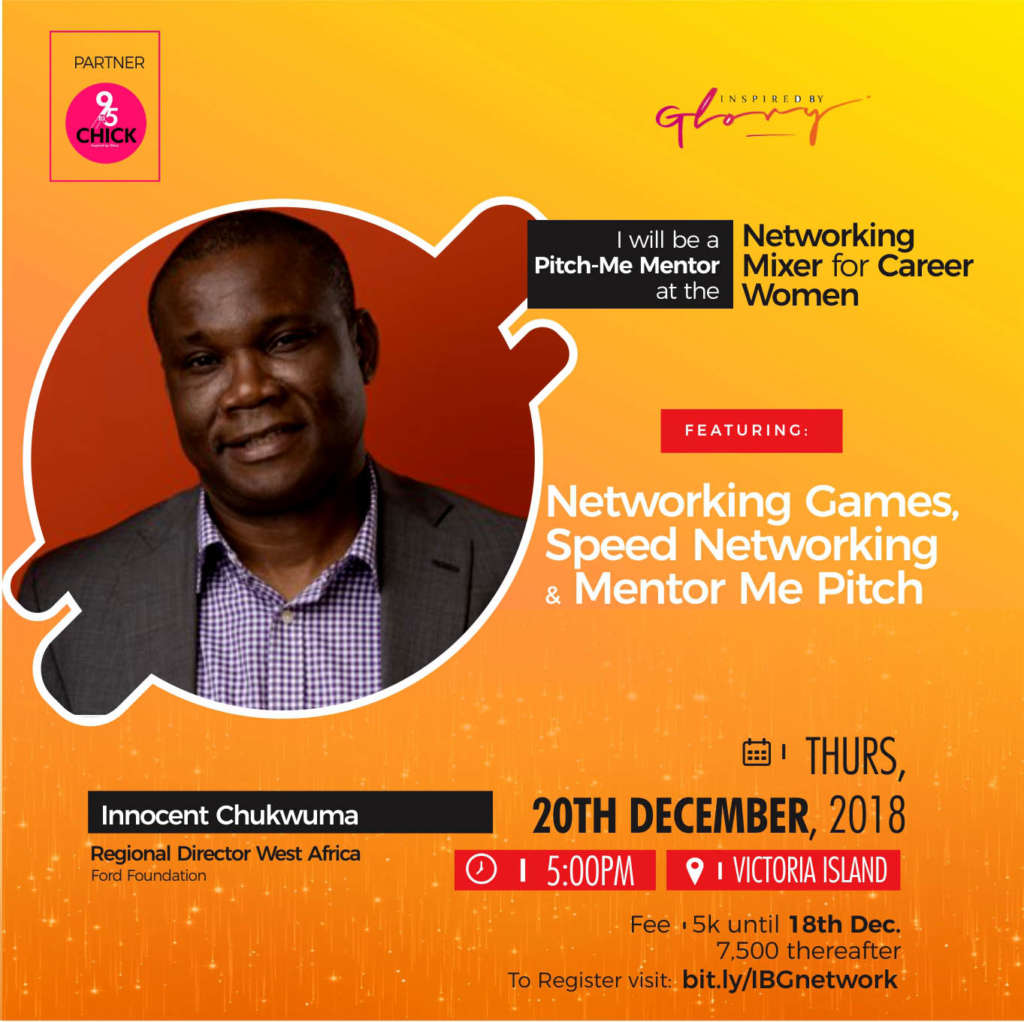 2. Kike Mesubi- Porfolio Manager FBN Capital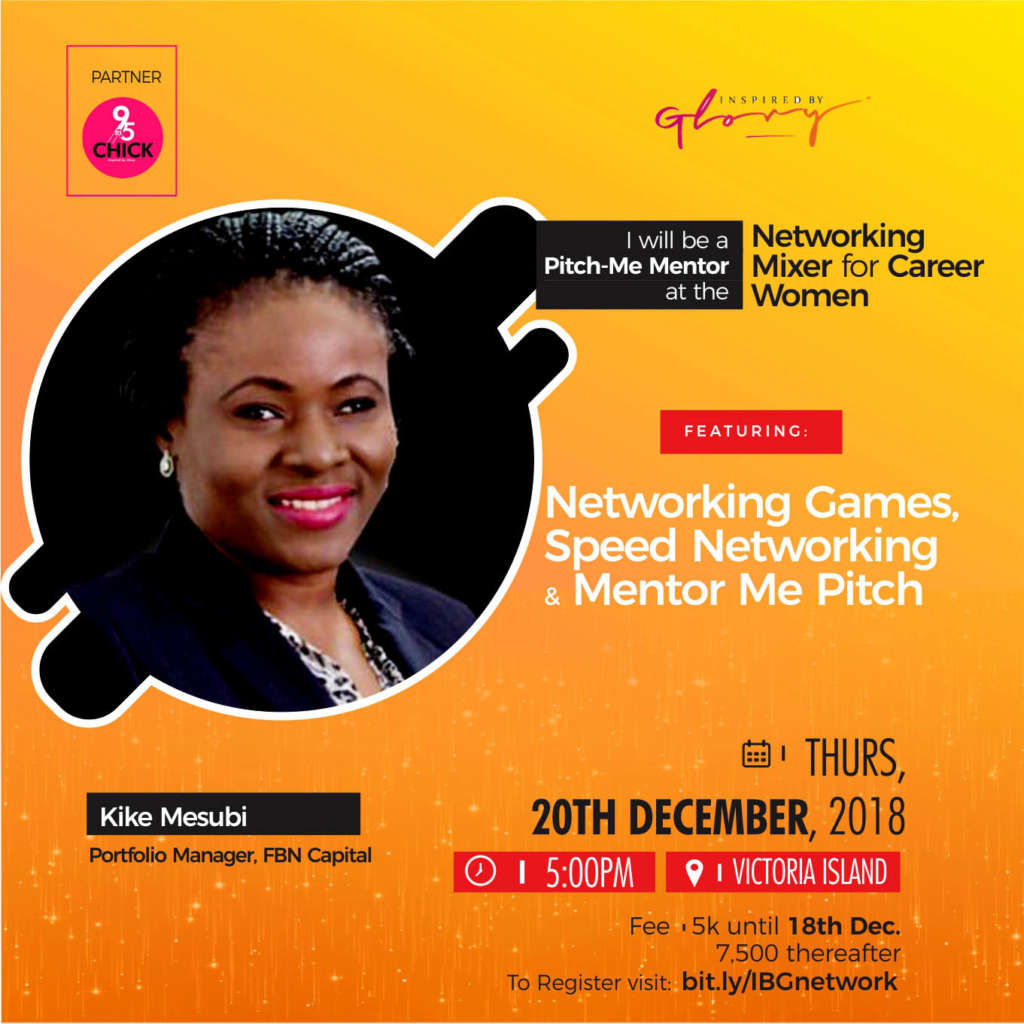 3. Agbomma Nwagbogu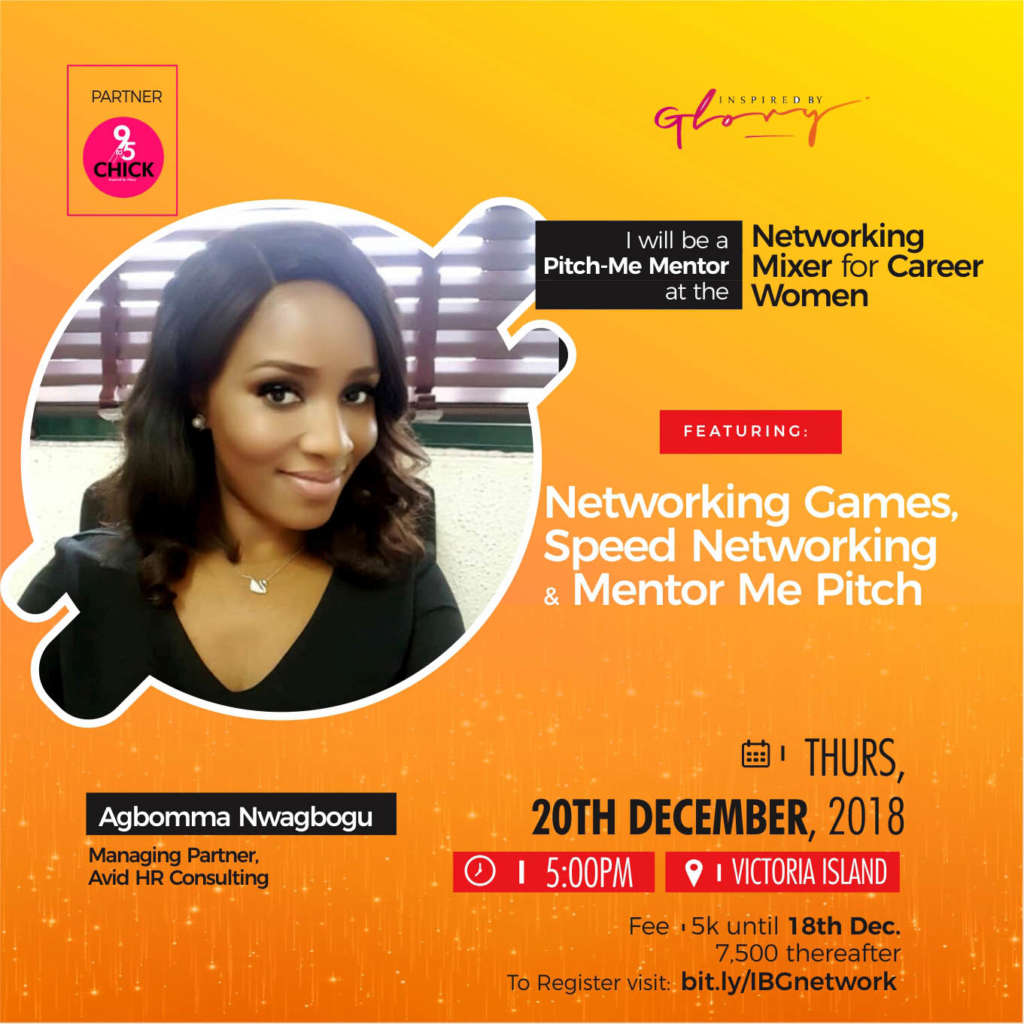 4. Mrs Rita James- MD Merciport Resources Ltd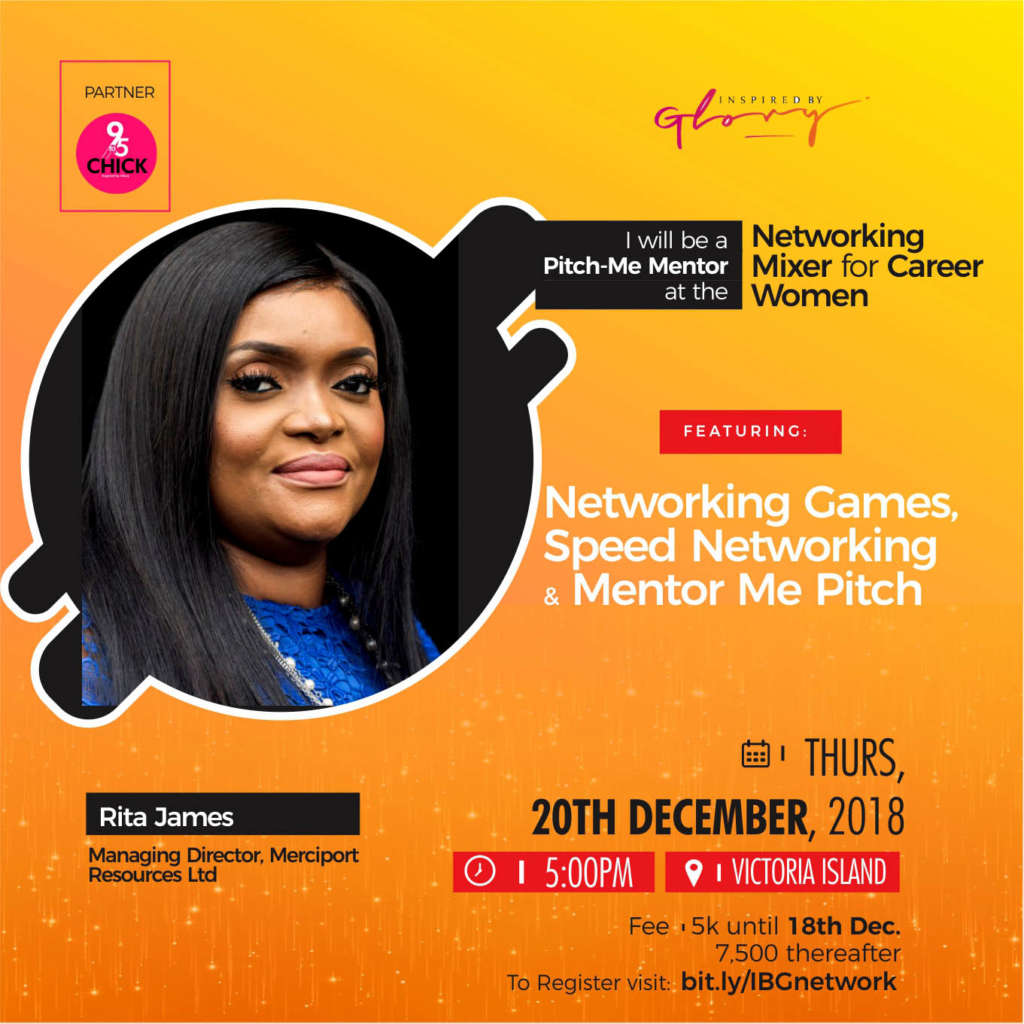 5. Toyosi Olatunji- Founding Executive Director, Arcane insights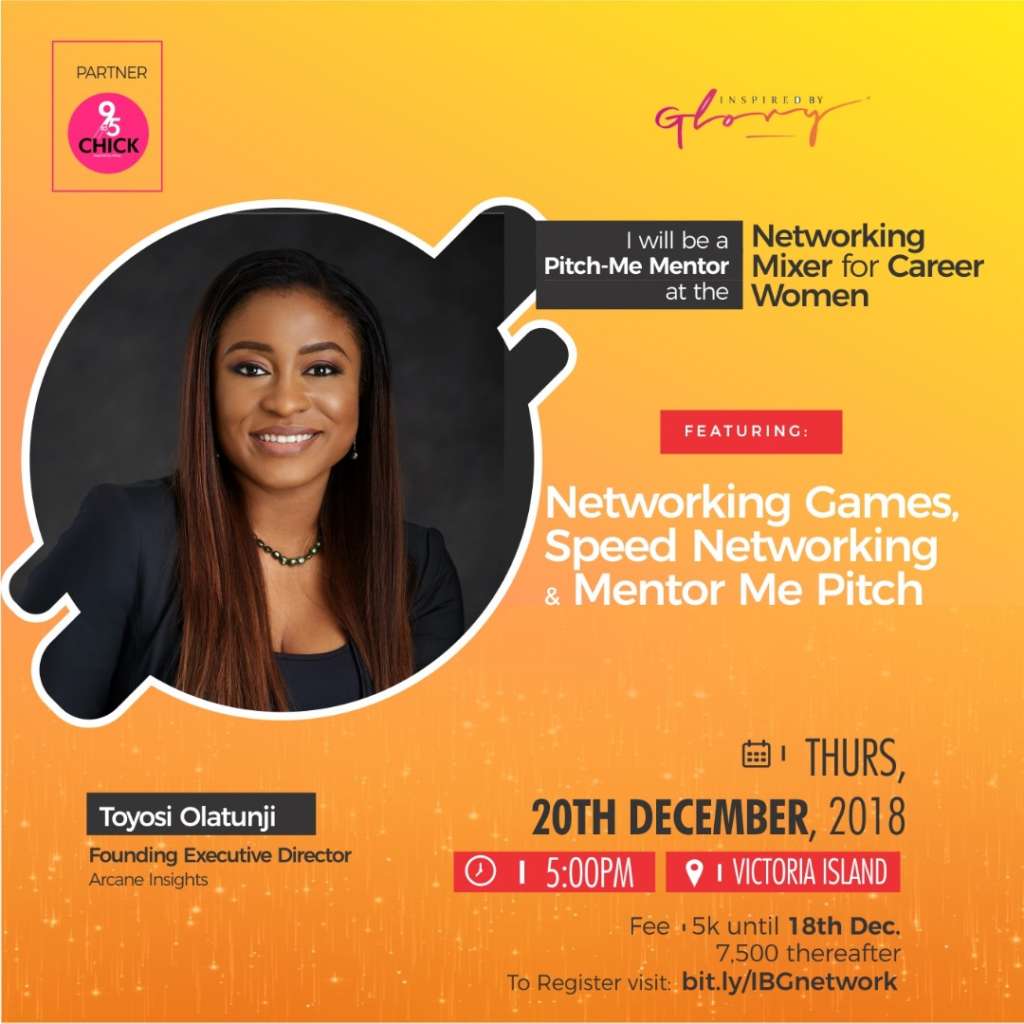 Other established career professionals who will be part of the mentorship speed networking event will include
Folashade Ambrose Medebem- Director Communications, Public Affairs and Sustainable Development, Lafrage PLC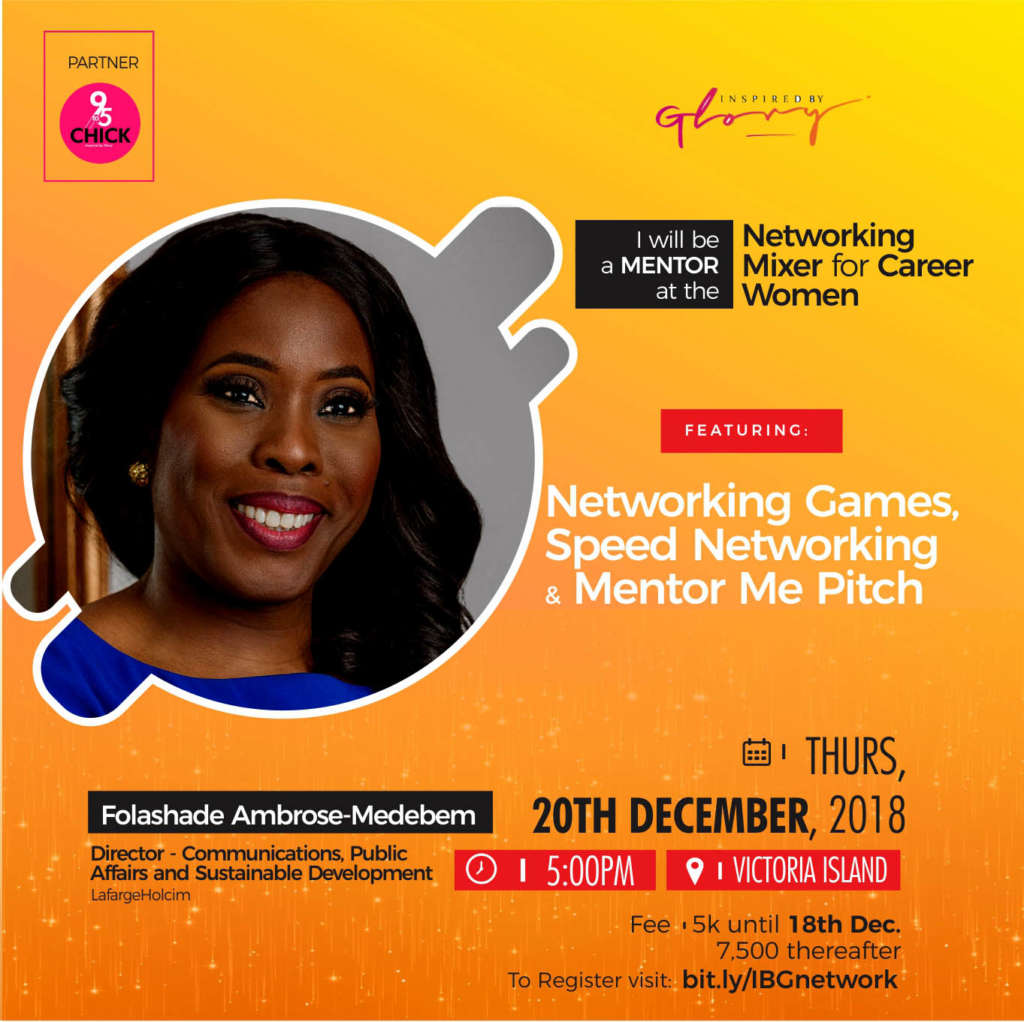 2. Ivie Martins Ogbonmwan- Human Resource Manager- Udo Udoma and Belo-Osagie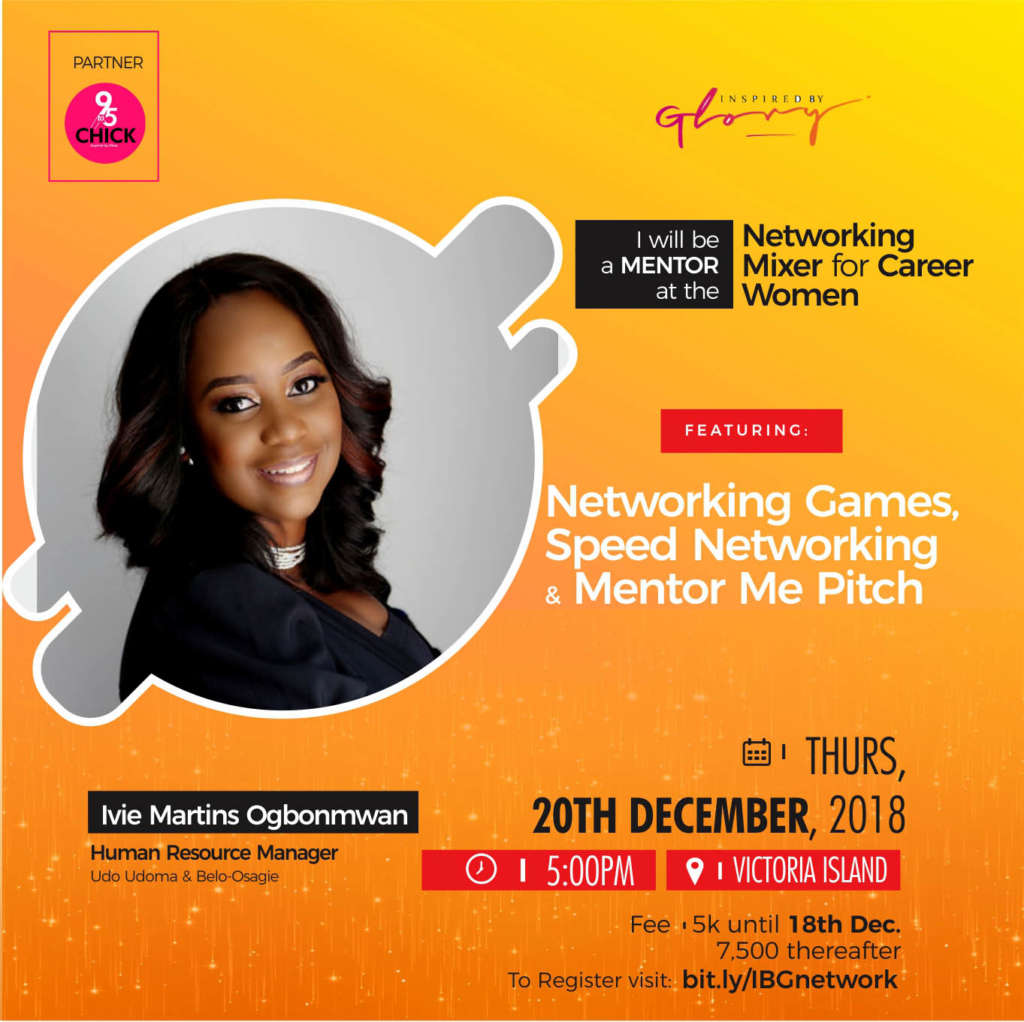 3. Mrs Bimbola Wright- Group Head Coverage and Corporate Banking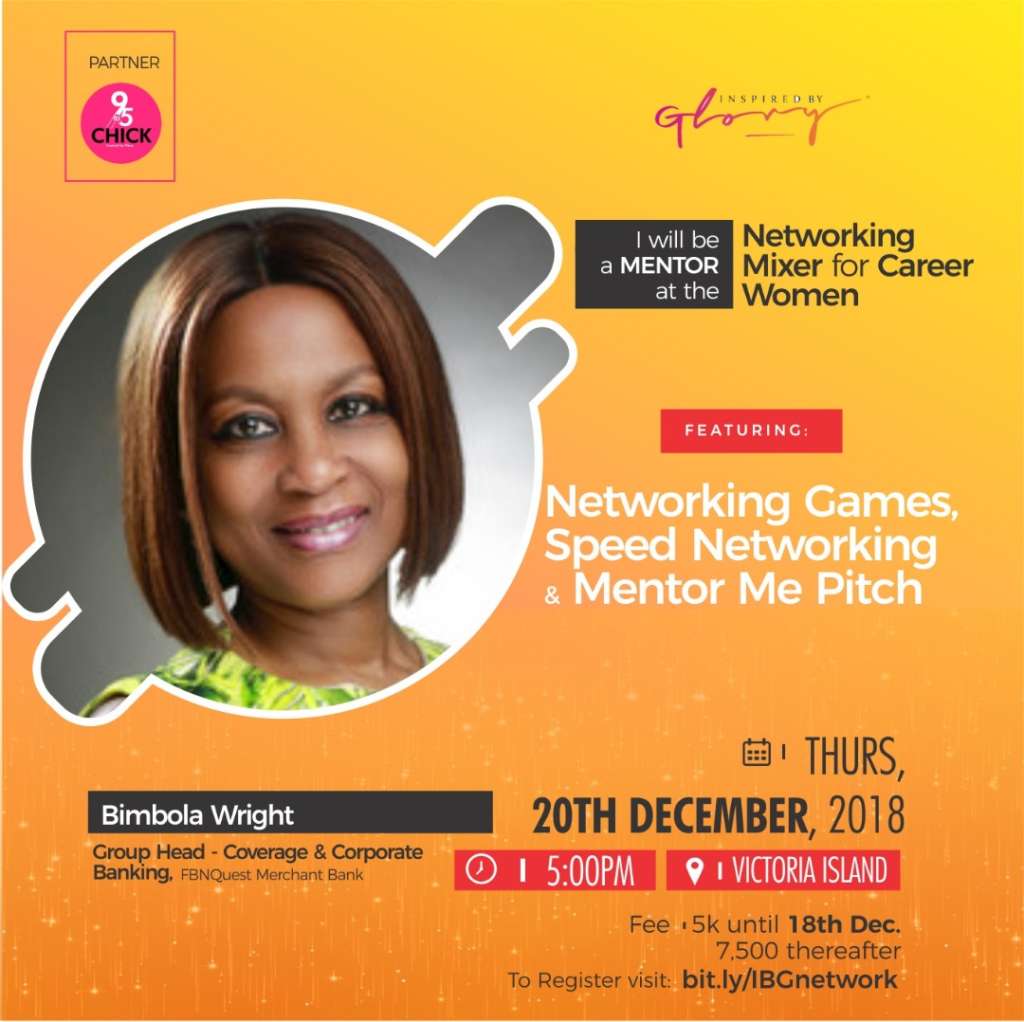 4. HR Advisor- Shell Petroleum Development Company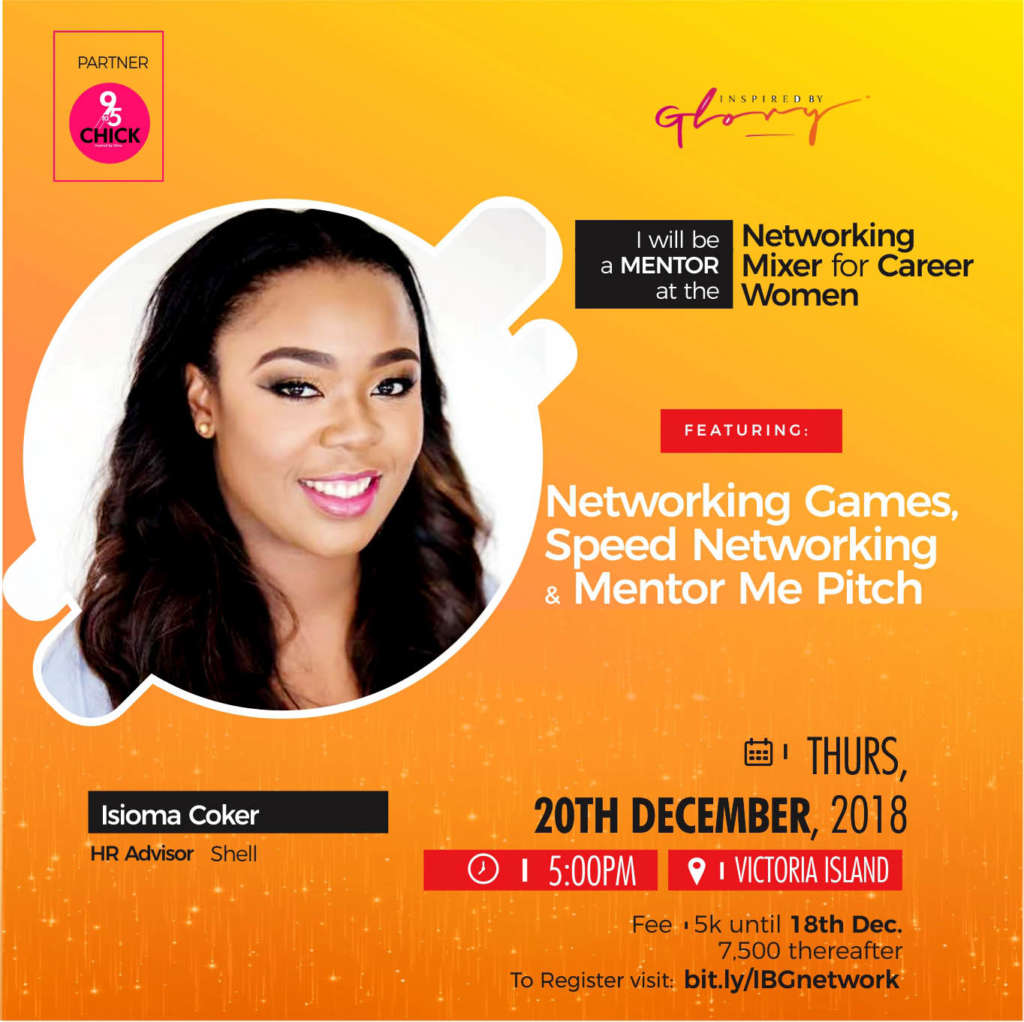 5. Chinwe Egwim- Macro Economist FBN Merchant Bank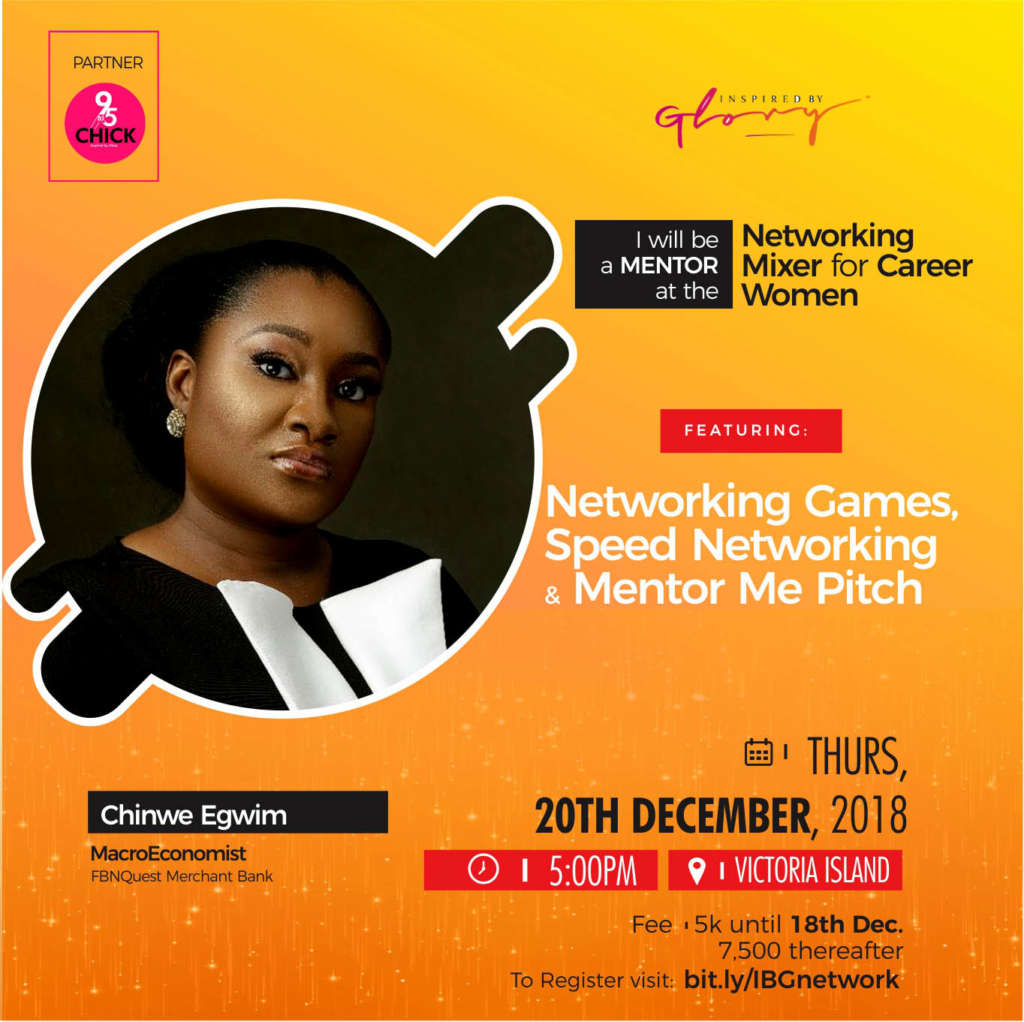 6. Odiri Ogini- Group Chief Financial Officer United Capital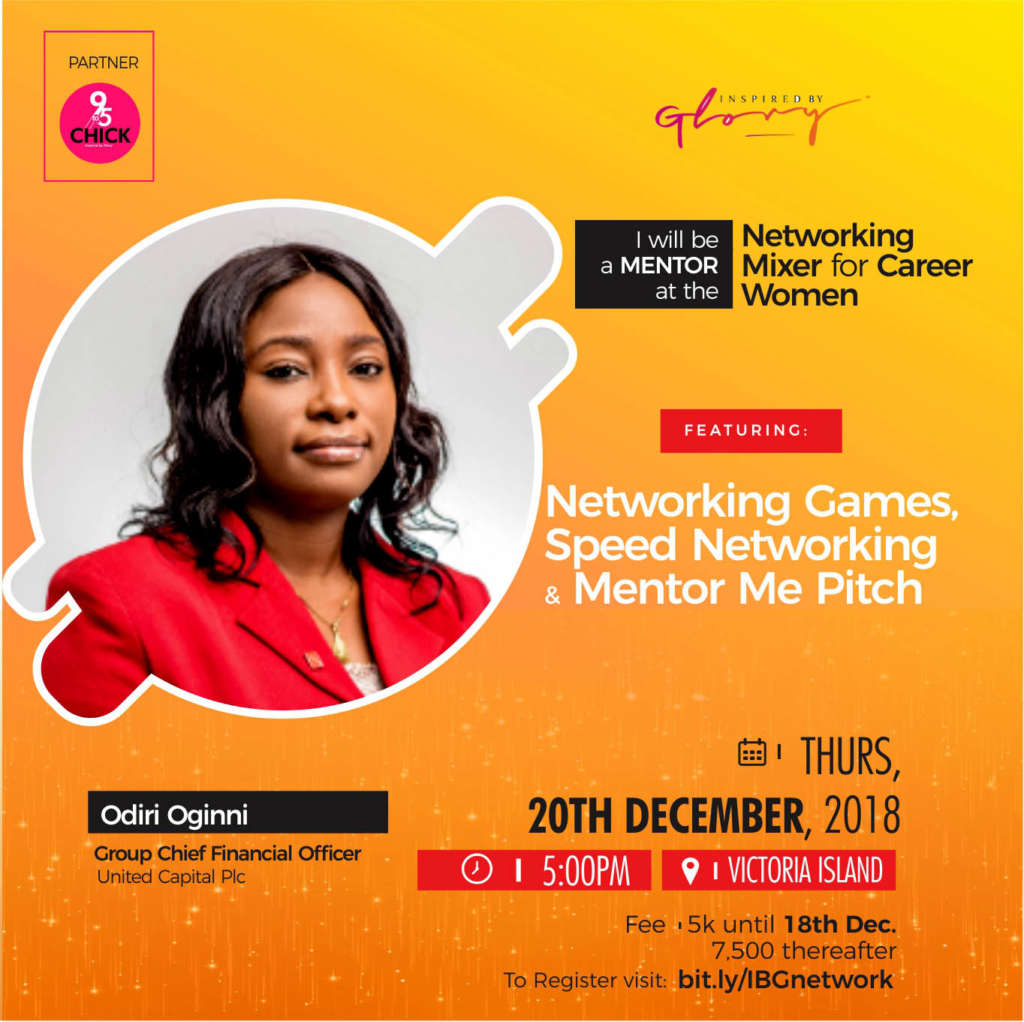 7. Ivana Osagie- Director Notore Chemical Industries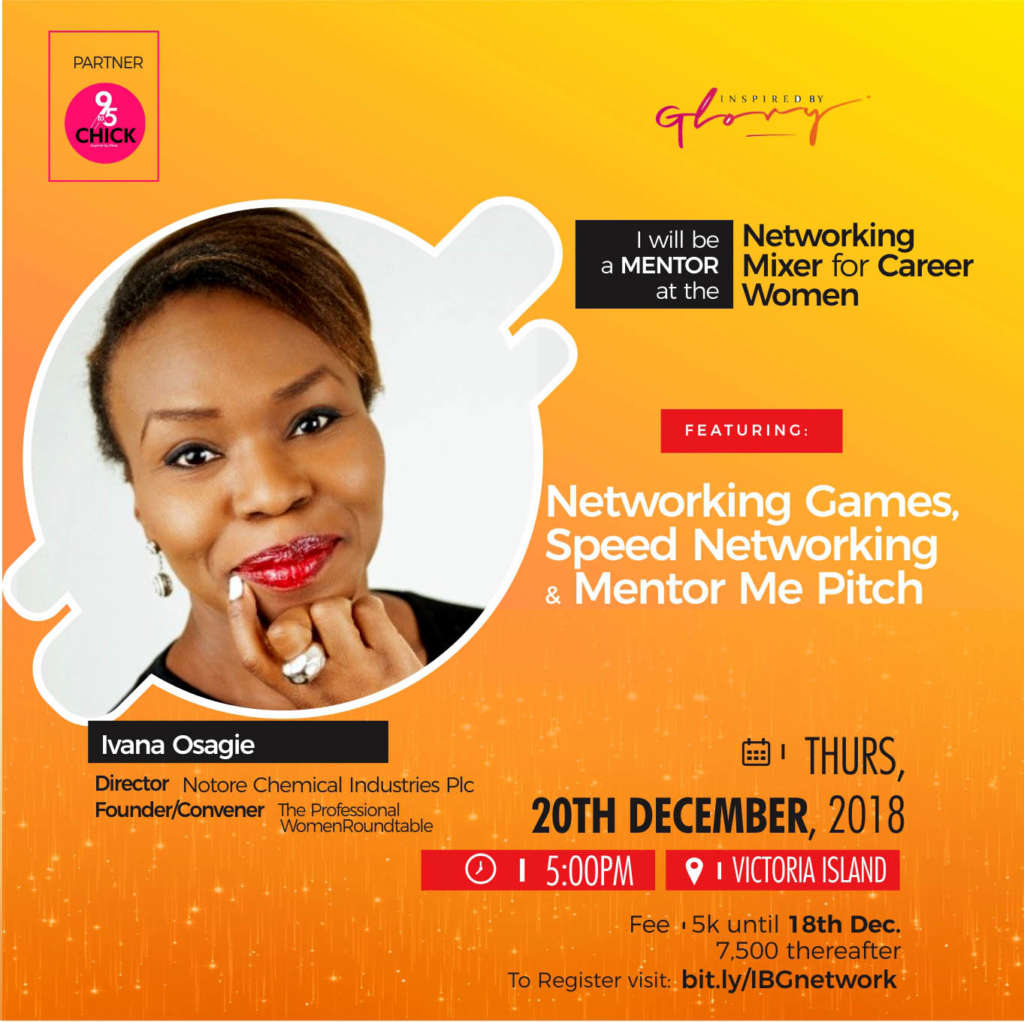 8. Christine Sijuwade- Managing Associate Udo Udoma and Belo-Osagie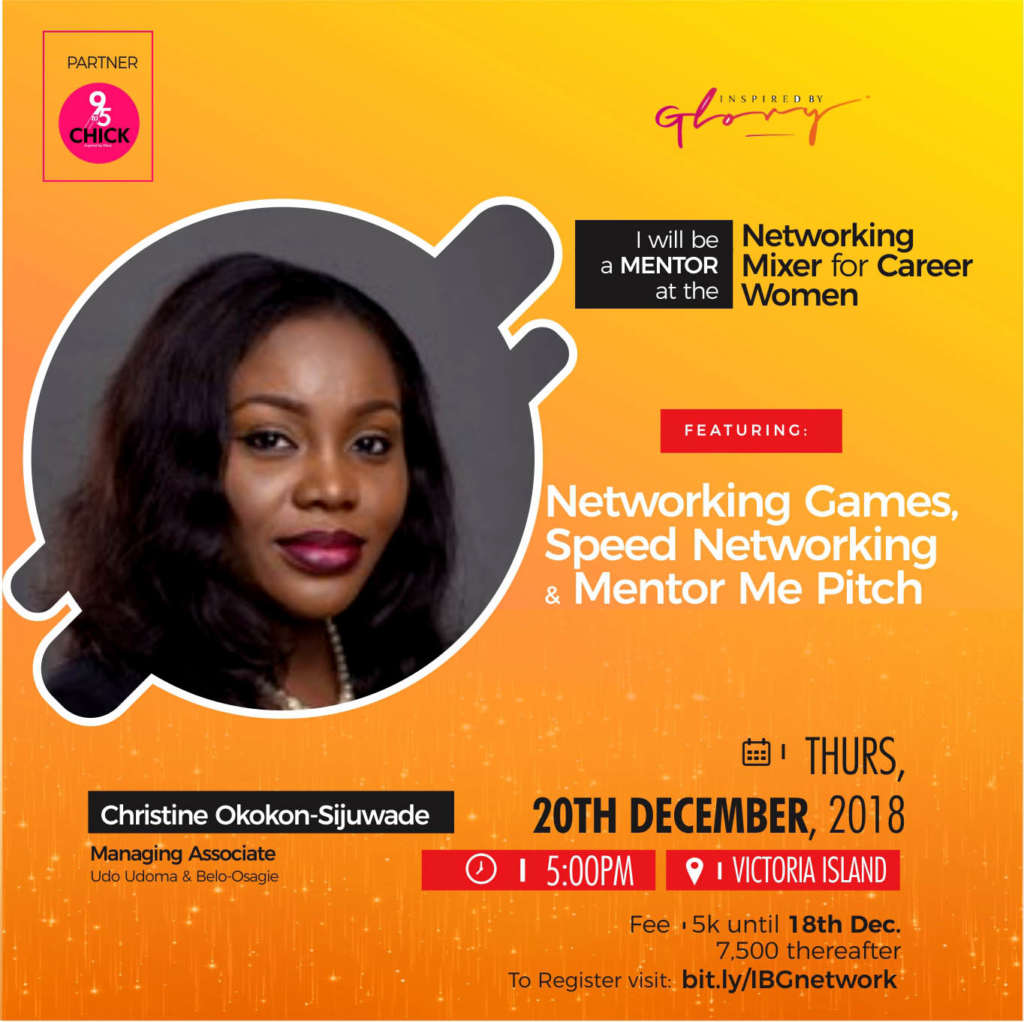 9. Folashade Owoeye- Manager, KPMG Advisory Services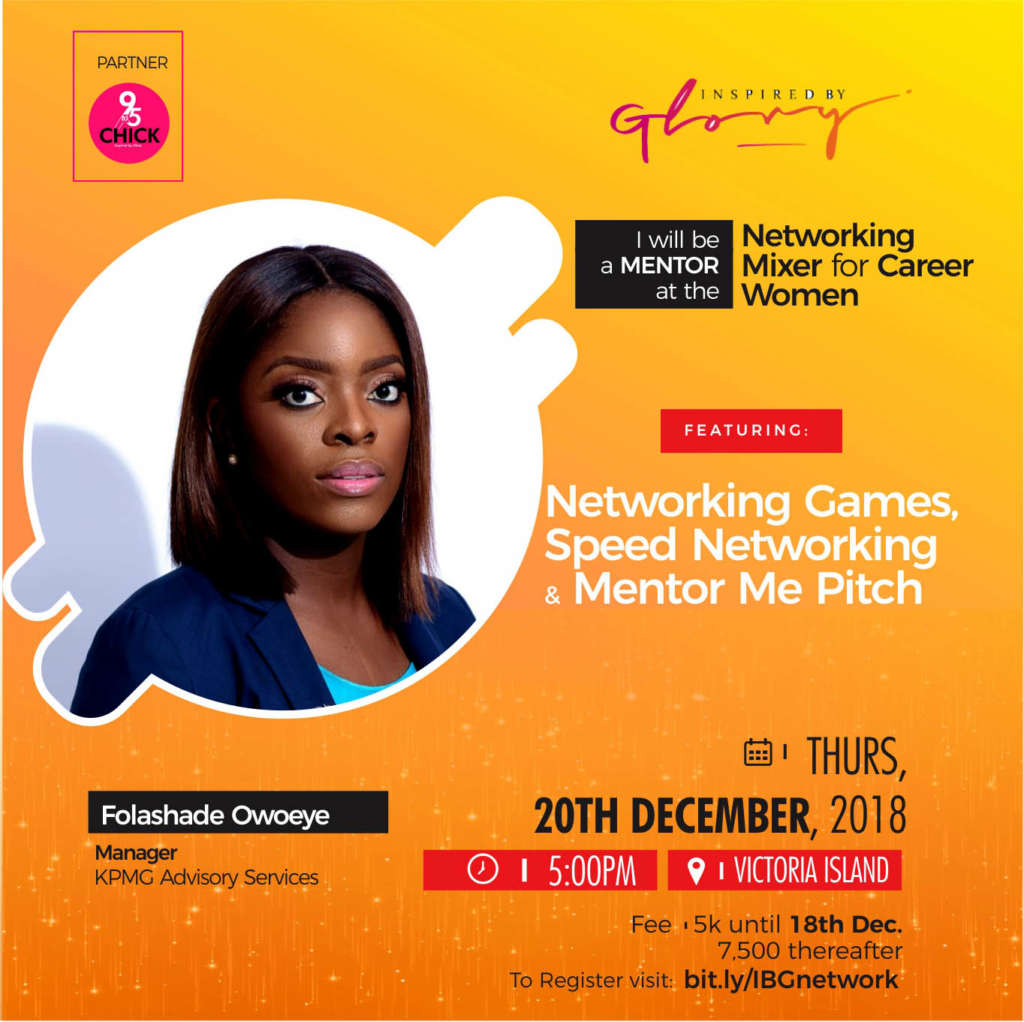 10. Abosede George Ogan- Director Strategy Funding and Stakeholder Management, Lagos State Employment Trust Fund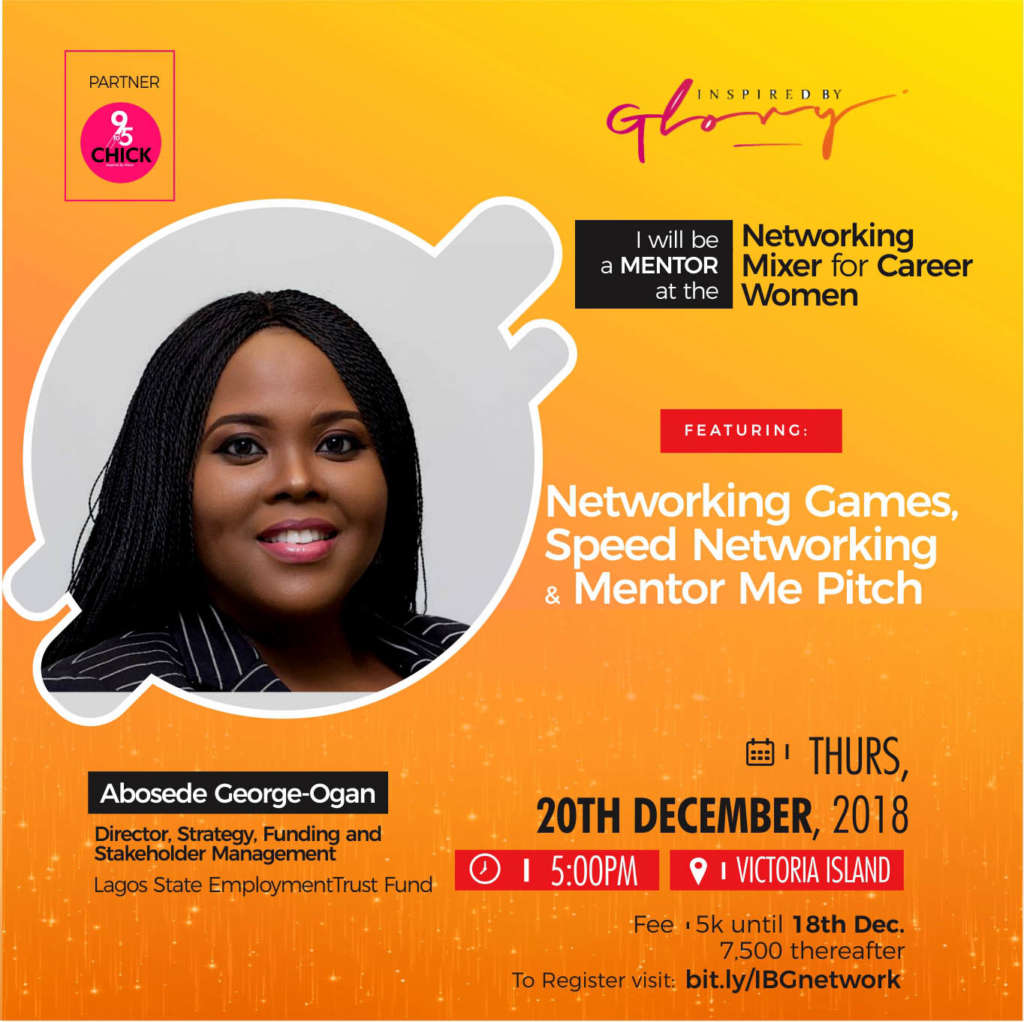 All this plus bottomless mocktails and canapés for only N5,000 (until 18th December, N7,500 thereafter)…don't over think this…register and make payment by clicking here 
If you have any questions, you can email me directly on glory@inspiredbyglory.com
Or just go ahead, register and pay here before the early bird fee expires.