Inspired by Glory is excited to announce the formal launch of it's Career Development Hub for Working Women, #9to5Chick. The purpose of the platform is to create a space where women can take deliberate action toward career growth and living fulfilled professional lives.
As with all things in life, great careers don't just happen, we have to plan towards them. In today's highly competitive professional world, just having a good degree is no longer enough, even professional qualifications, although very useful can be insufficient. Investing in your personal growth by learning key leadership skills, emotional intelligence, how to network and build relationships, being exposed to career coaching and mentorship opportunities are just some of the key ingredients for career success.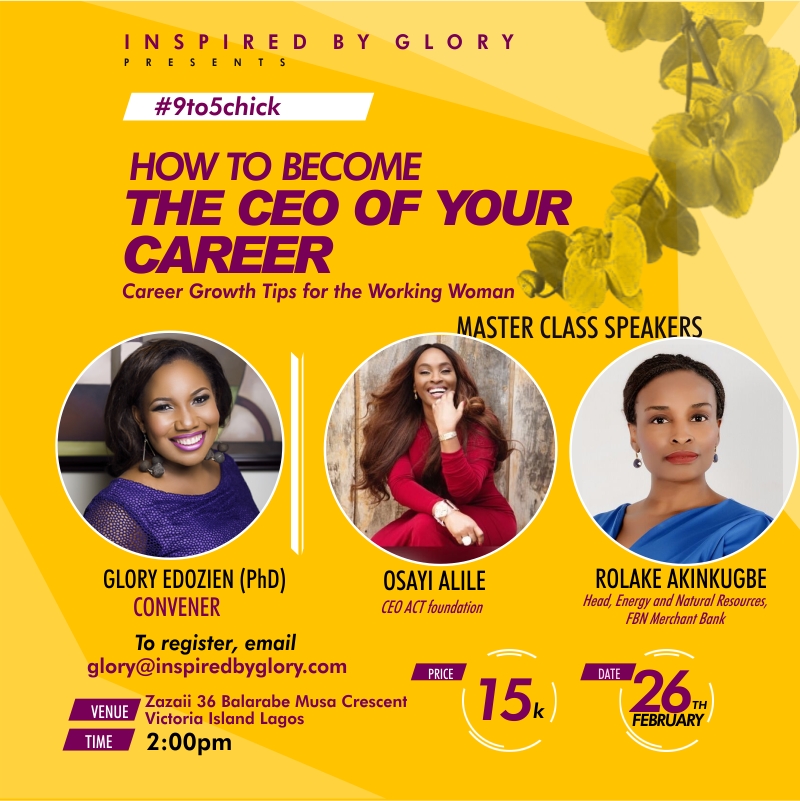 The launch of the #9to5Chick Seminar is tagged- How to become the CEO of your Own career- Career Growth Tips for the Working Woman is specifically targeted at women who are seeking to scale up their career to management level. With Two Master Classes from Osayi Alile CEO of ACT foundation (Former Executive Director of FATE Foundation and Former Chairperson of WIMBIZ), Rolake Akinkugbe Head of Energy at FBN Merchant Bank, including panel sessions with Valerie Eguegu Product Line Manager for Baker Huges, Folusho Gbadamosi Execitive Director Industrial and General Insurance, Teju Ajani Content Partnership Manager Sub Saharan Africa Google, Stephanie Obi, Online Business Strategist..to mention a few you can be sure to have a thoroughly impactful time
So come and learn from career women who are rock stars in their professional lives. Stop wishing, praying and hoping and start learning what to do! Make a decision to become deliberate about your career growth and see the manifold doors that will open for you.
Event details
Date– Sunday 26th February 2017
Venue– Zazaii 36 Balarabe Musa Crescent Off Manuwa, Off Ozumba Mbadiwe,, Samuel Manuwa St, Lagos
Time– 2pm
Fee- 15,000 Flat
To register please fill in the form here  or email glory@inspiredbyglory.com