At the beginning of August we brought back our highly successful IG Live Career Development Series #Networkingforcareersuccess, but this time with a twist. For this special 4 part series, we focused on mentorship. We sought some of the top career mentors and asked them to share with us their top networking and mentorship tips.
As part of this series we interviewed Tara Fela Durotoye (Founder House of Tara International), Bankole Williams (Author, Coach, Consultant and Speaker), Folashade Ambrose Medebem ( Director Communications, Public Affairs and Sustainable Development, Lafarge PLC and Founder Women Inspiring Impact Network), and Osayi Alile (CEO, ACT Foundation).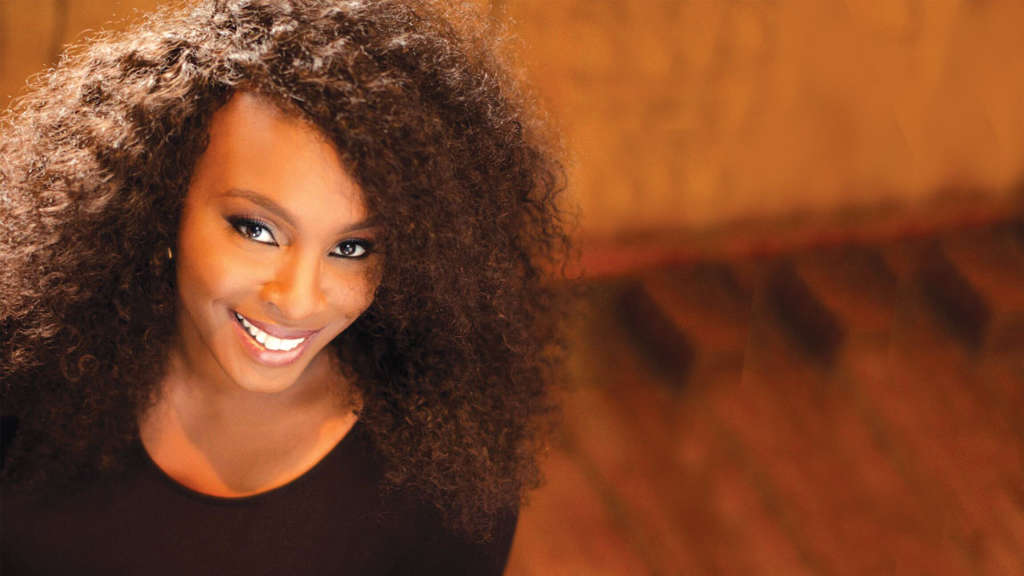 Here are the top tips we learnt from Osayi Alile, CEO ACT Foundation on mentorship and networking for career success. 
On her first job
My first job was at GTB. Then it wasn't popular to have a vacation job, but I had heard they were opening this new bank and I went to Mr. Fola Adeola and asked if I could help.
On the right mindset for networking
I never go anywhere with a one sided mindset. I always think what can I learn. I am also interested in people. I am actually not an extrovert. I am just interested in people. Relationships are a two sided thing. When you are interested in people, people will be interested in you.
Bring something to the table first. It has nothing to do with age. The second conversation is always easier when you help people first.
Everyone needs someone. My life is built on people who have held my hand and walked with me.
On her first mentor
Mr. Fola Adeola was my first mentor. I asked him if he would give me some direction in terms of my career. This was before Fate Foundation. I asked him because I felt he understood the nonprofit sector. I also knew his daughter wanted to go to college, so I volunteered to give her advice. It was a two way relationship.
I have had mentors for different seasons and the relationships have evolved. But I have always been very clear on what I wanted. You need to be specific.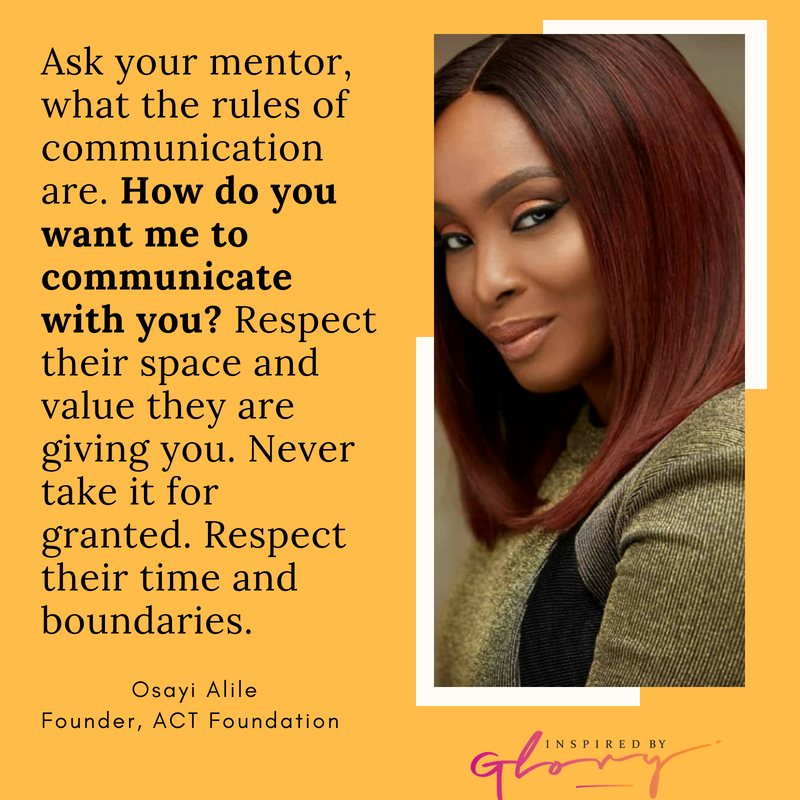 On finding mentors
Don't follow people based on popularity. Find someone whose opinion you respect. Follow your path.
There are people who have gone through what you are going through. Find them. Relationships are key, no one can walk this life on their own. We all need people.
So many organizations have mentoring platforms. Like WIMBIZ. Instead of going up to someone after a conference, let someone make an introduction on your behalf.
Someone sent me messages on LinkedIn based on things I was interested in. We chatted for 6 months and when she wanted to meet, for the first time, after a conference it was easy. When finding a mentor don't think short term. Today, myself and that person are friends.
On having a male mentor
It is important to be formal and professional from the very beginning.
On cultivating the mentor/mentee relationship
Be on time and professional. I had a mentor who told me to come for a meeting at 5:30am, I was there at 5:15am.
We take access for granted because of social media. We are no longer professional. Even though I have known Mr. Fola Adeola for years, I am still very professional. I once got on an okada to make sure I arrived on time for a meeting with him.
Ask your mentor, what the rules of communication are. How do you want me to communicate with you? Respect their space and value they are giving you. Never take it for granted. Respect their time and boundaries.
Professionalism is very important even if you are friends. Always tell your mentor the truth. Don't tell them only half the story. So they can give advice on the full situation.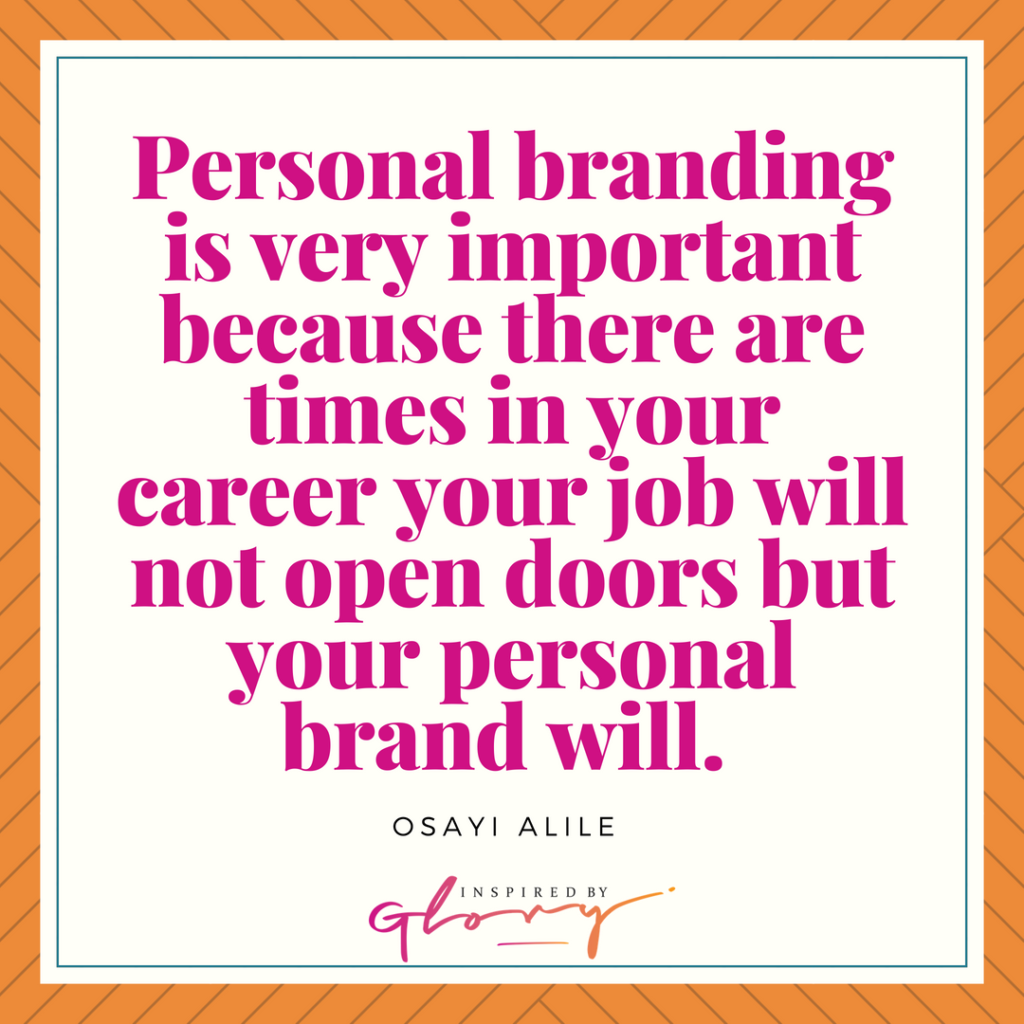 On mentorship mistakes
I was so desperate to have someone in the market aboard, that I didn't do my background checks. It was a strenuous relationship and I had to cut it off. But I didn't do it properly. I should have been clear and explained to him why I wanted to end it but I wasn't and the next time I saw him I was embarrassed.
Lessons learnt from her mentors
I learnt a lot in terms of building relationships across board not just with people who can help me but just being there for people. Greet everyone no matter how small or big they are.
Mrs. Awoskia taught me that family is key. Not just about marriage. But that you should build relationships with family members. Don't take family for granted, carry them along.
How I choose mentees
Interest in what they are trying to achieve
Opportunity for me to learn as well
From formal platforms I am part of
On personal branding
You must own your brand regardless of where you work. Why do you want to be in a space and not be known for anything?
Personal branding is very important because there are times in your career that your job will not open doors but your personal brand will.
On giving value
I joined WIMBIZ 15 years ago. I started by asking questions and helping out wherever I could. There were not too many young people there then. When I became the chair it was not something that was expected. But by networking and building relationships, they saw I had value to give because I was always helping.
Do things in the proper fashion. It may take time but keep at it. There was someone I helped 10 years ago who is now helping me achieve something. Enjoy the process of giving. Done let negatives cloud your judgment about people.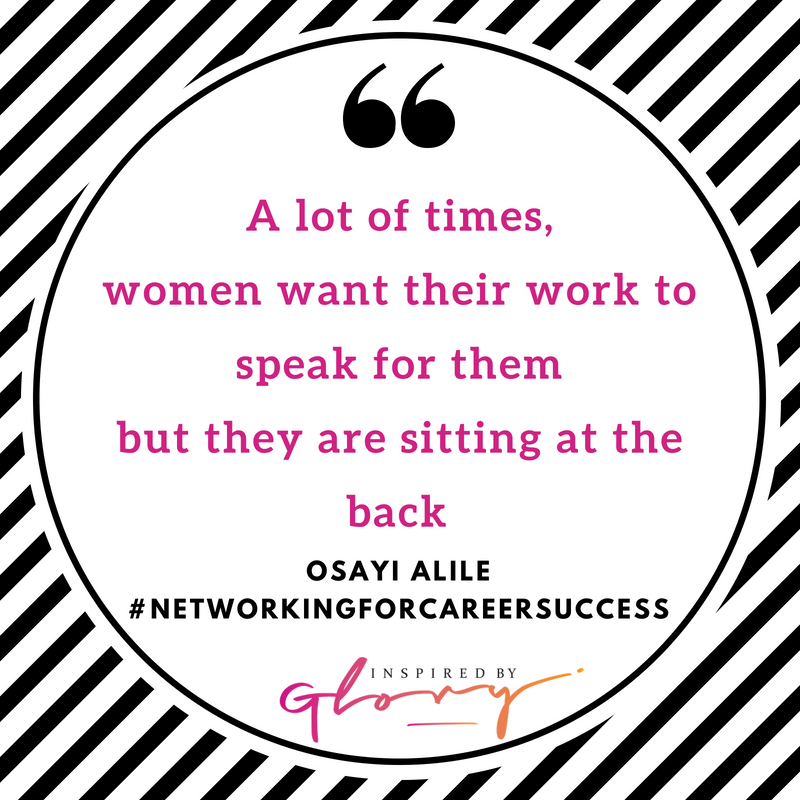 On dealing with fear of networking
I still have a lot of fear.
I came to a point where I realized there is nothing to lose. But I don't go to places where I do not get value from. Be very focused. When you are speaking to people, don't have darting eyes. Give whoever is in front of you that time. Don't be afraid of talking to anyone. The no's will come, no matter how big you are. Enjoy it regardless. Look for a friendly face first, then move to the next person.
On joining senior management
Put the cap of senior management on. Ask yourself, what do I need to have to become a senior manager? Do not wait for your company to train you. Look for people who are in senior management and become friends with them, why? You need someone in senior management to mention your name. Friendship…not buying rice but by offering value.
Ask- I need your help. I am trying to build my career.
Consciously work towards looking for people to know your name. Put your hand up if they ask for help. Once you do things for senior management, if they ask for help volunteer..that way they know your name.
A lot of times women want their work to speak for them but they are sitting at the back.