A step by step guide on how to use networking to get your dream job, climb the career ladder and become more visible in your sector.
"Taking Glory's Course on Networking is one of the best decisions I made this year. I learnt so much and it gave me a push"

Chinwe- Health Sector
BUILDING THE RIGHT RELATIONSHIPS IS THE PATHWAY TO YOUR CAREER SUCCESS
Did you know that networking is the most common way of finding a job? According to a survey conducted by Linkedin, networking is the most popular way to get a job and accounts for up to 85% of job roles filled. One of the main reasons why networking plays such a huge role in landing your dream job is because of something called the hidden job market. Yes, there is a job market that neither you nor I know about. Every day there are roles being filled that were never publicly advertised. In fact, experts say up to  80 percent of new jobs are never advertised but are instead filled internally or via networking and that referrals make up 40 percent of new hires. This makes networking not only the most popular way to find your dream job or transition to a new sector or role with better prospects but it also makes it the most effective way of doing so.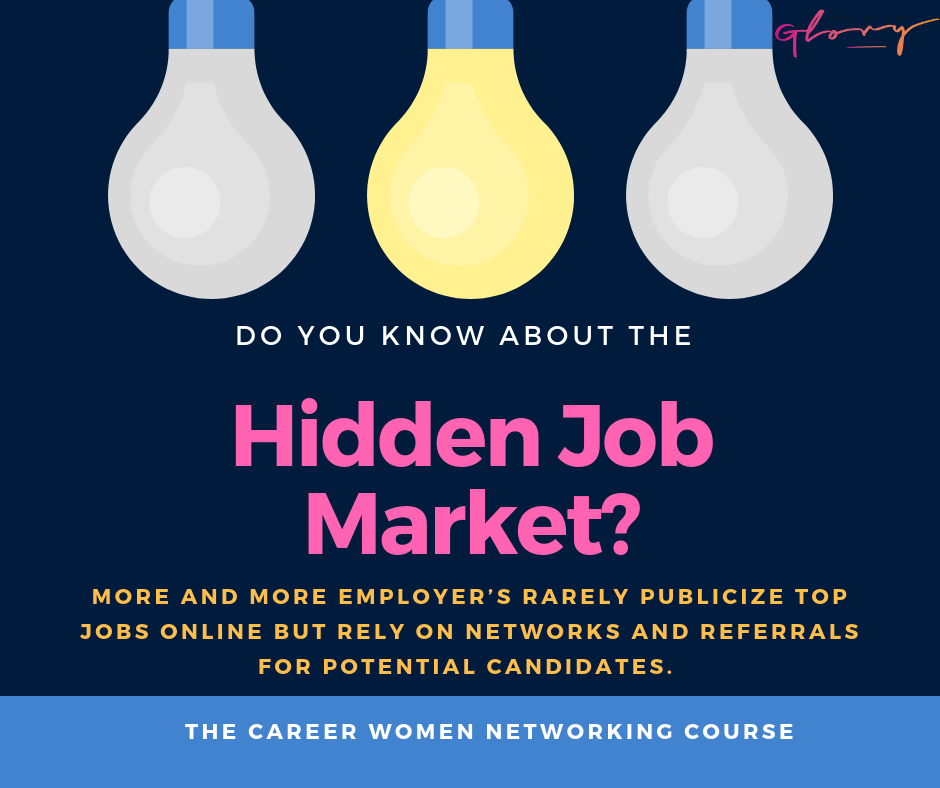 But this does not surprise me. My experience with finding my dream job and transitioning between various lucrative opportunities has been the same. The first job I ever got while I was doing my PhD, was never advertised. My supervisor made random calls to a few of his contacts and vouched for my capabilities, this earned me my first ever interview and job in a foreign country with no prior experience. Now almost 14 years since that first job I continue to see how the power of networking opens the door of opportunities for me. While in my previous 9to5, my dream was always to contribute to national policy documents on climate change. I achieved this dream by building contacts from local and international conferences I attended and by constantly remaining visible and in touch with these contacts while also building a brand for myself in the industry. I also delivered on a large portfolio of projects worth 100's of millions of naira all by building connections with the right clients. In my experience networking not only helped me achieve my dream career objective but also made me a star performer in my job and industry.
Even as an entrepreneur the benefits of creating and feeding my network with value as well as becoming a super connector continues to provide numerous benefits. My first ever contract as an entrepreneur was to create a business accelerator programme for female start-ups. I created a 16 mini business course series with some of the most influential business women in Nigeria- Tara Fela Durotoye, Biola Alabi, Ndidi Nwuneli, Ngozi Edozien, Omoyeni Akerele to mention just a few, women who I had met over the years and kept in touch with. Last year, one of my business goals was to meet more influential career women and to increase company revenue. I achieved this goal by diversifying the types of networking events I attended. How? A friend of mine told me about a particular networking event that fit the profile of the types of events I wanted to attend. At the event, I met a potential contact who mentioned that she was thinking of setting up a women empowerment network. After sending follow up emails, which she didn't reply, for about 3 months, we met and she connected me to two contracts which more than doubled the monthly revenue of my business.
NETWORKING CAN DO THE SAME AND MORE FOR YOU!
If you find that you really want to network but find it difficult because
You are an introvert and feel shy talking to strangers or interacting with large groups
You don't know how to start conversations or maintain relationships with new contacts
You feel like you have nothing to offer to new people you meet
You worry about seeming desperate, pushy or like you are trying to sell something
You are not sure about what networks to join that will be beneficial to your career
You are scared about asking new people you meet for help
You are finding it difficult to perform on the job because you don't know the right people
You have big career goals but you aren't sure who can or will even want to help you succeed.
Does this sound like you? Well, then the GOOD NEWS is that we have something for you……
The Career Women Networking Course.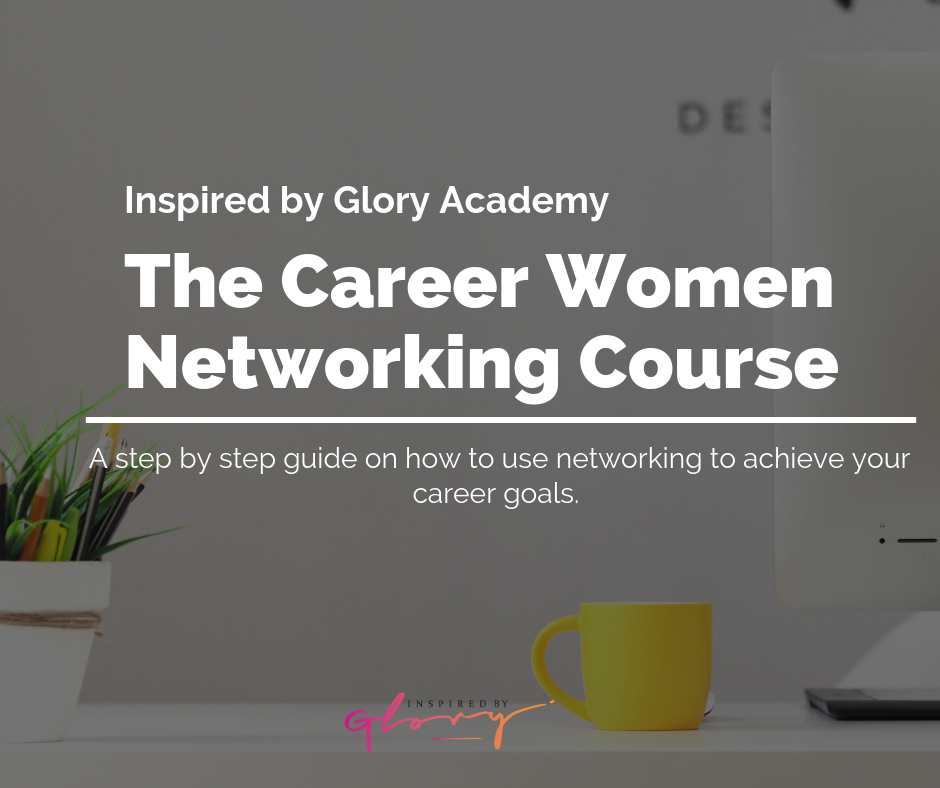 This is an 8 week, wholly online practical course which will take you through the fundamentals of networking. The course will teach you how to align your networking efforts so you can achieve your career goals. It will help you discover the key contacts and connections you need to achieve your career goals and give you the tools and confidence you need to connect with those identified contacts.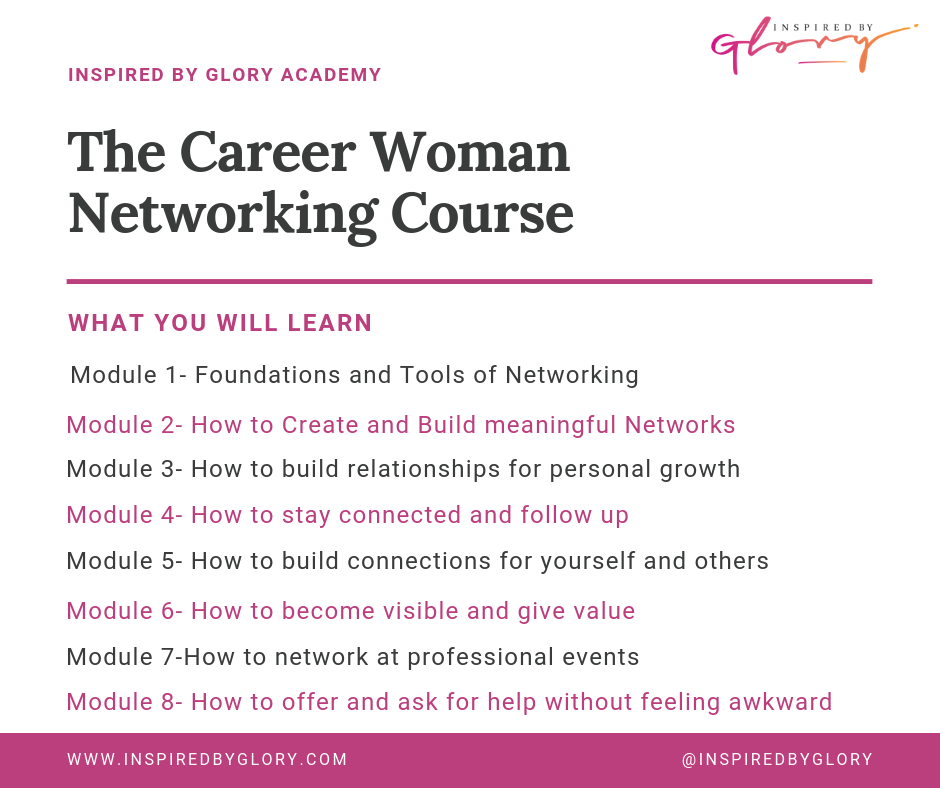 But don't take my word for it. Hear from other career women, just like you, who have taken the Career Women Networking Course and seen their confidence grow, get more strategic about meeting relevant contacts and even found a new job all from attending the Career Women Networking Course.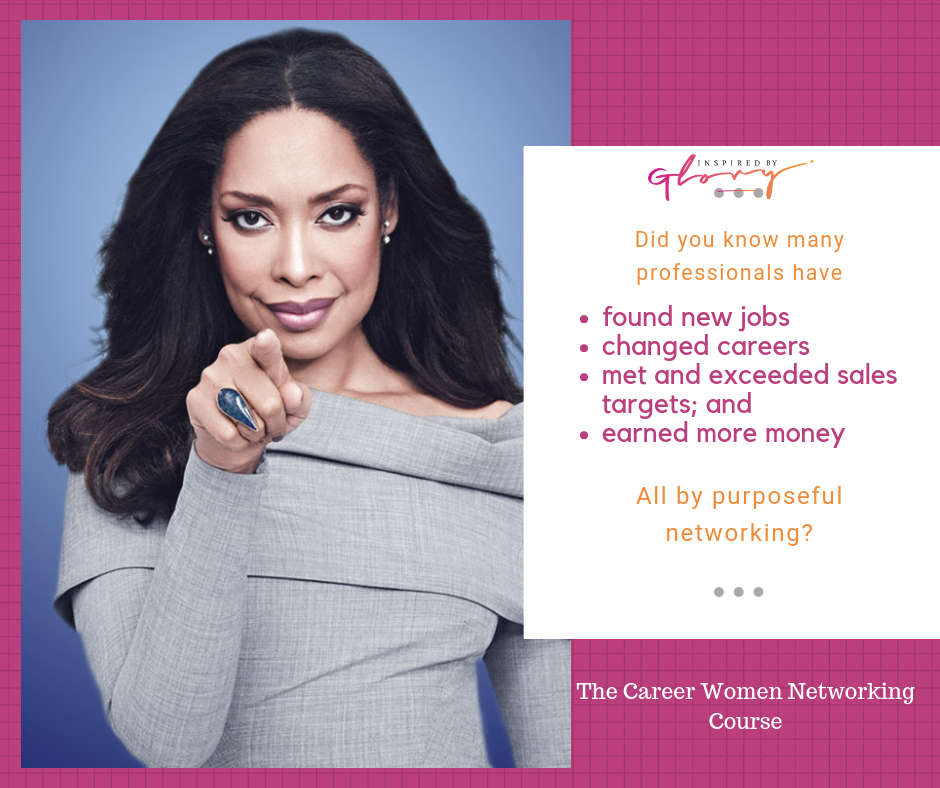 "I loved that Glory gave us practical tips at the end of each module. I learnt how to approach meetings and my work generally with a confident mindset. I recommend this course to any woman who is looking to up her career game and take the next level in her career".

Tunmise- Lawyer

"I thoroughly enjoyed being part of the networking course. There were a lot of practical tips and advice, what to do and what not to do. The activities and homework made you dig really deep into what you wanted to do, so I would highly recommend it to anyone looking to improve on their networking"

Zainab- finance

"The course opened my eyes to a lot of things. I am bolder now, more strategic with my connections and I am more intentional about meeting people. I would recommend this course to women, because we all think it's a mans thing its not. We all need it no matter what career we are in. it will teach you to meet people and demystify the idea about networking".

Ada- Oil and gas

"I never knew what networking was about until I attended this training. It's a very wide course. I had contacts but I didn't know what to do with them. After the training, I was able to revamp my existing contacts, make new ones and prepare to attend training and networking opportunities and have purpose for attending them. I recommend this course because it will help you increase your confidence level and have a reason to network"

Theresa- Real Estate

"I enjoyed taking this course because it opened my eyes to a lot of things and help me become intentional while networking. I would encourage any woman who is ambitious to take this course because it will teach you vital networking tools and communication skills for reaching out to people. It will also help you create a plan and your personal brand and focus on your strengths and vale and how to leverage on that while networking. In total, it was very interesting and fulfilling for me because I learnt a lot."

Grace- Trade Manager

THESE ARE ALL CAREER WOMEN LIKE YOU, SO I AM NOT JOKING WHEN I SAY NETWORKING CAN CHANGE YOUR LIFE!
You too can have these success stories. But you have to learn the right skills first.
For only N73,500 you can learn how to find the right networks with people who can help you with the opportunities you are looking for. BUT there is more.
THERE'S STILL MORE! FOR THE FIRST 10 PEOPLE WHO PAY YOU WILL RECEIVE ONE FREE 45 MINUTE CONSULTATION WHERE YOU CAN ASK ME TARGETED AND SPECIFIC QUESTIONS ON YOUR NETWORKING CHALLENGES IN PRIVATE. I WILL ONLY PROVIDE THIS SERVICE FOR THE FIRST 10 PEOPLE WHO PAY, SO PLEASE HURRY.
THERE'S STILL MORE! WE HAVE NOW UPDATED THE COURSE TO INCLUDE MASTERCLASSES FROM ACCOMPLISHED CAREER COACHES IN KEY CAREER DEVELOPMENT AREAS.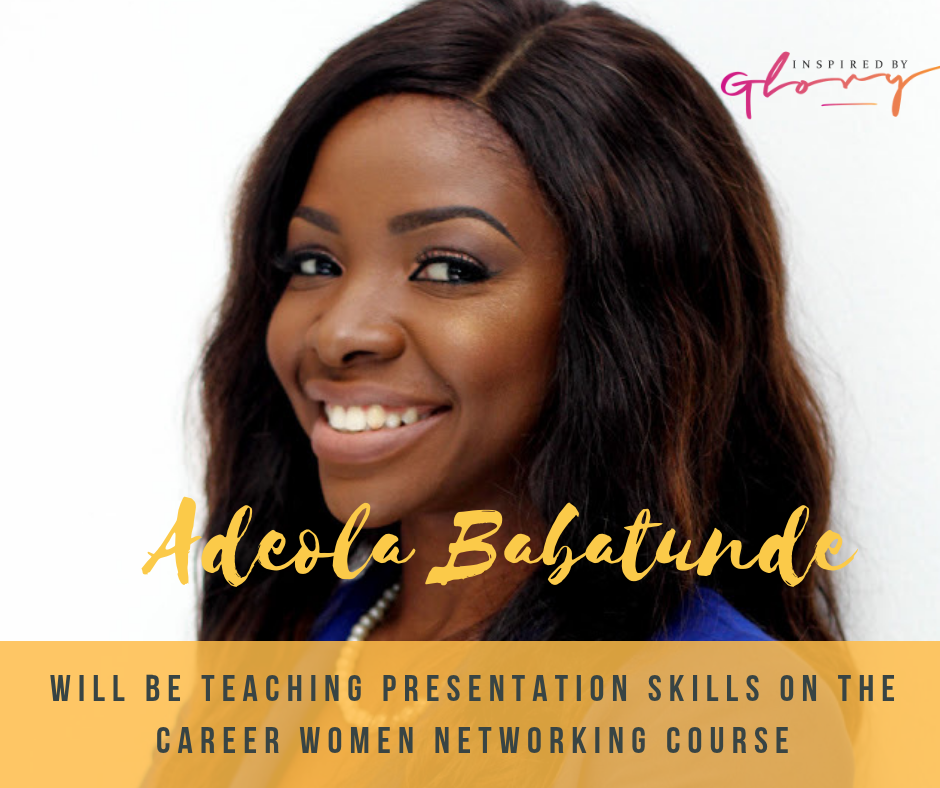 Learn how to deliver confident presentations on demand that will help you stand out in the workplace via an online masterclass facilitated by the amazing #publicspeaking guru  Adeola Babatunde @publicspeaking4women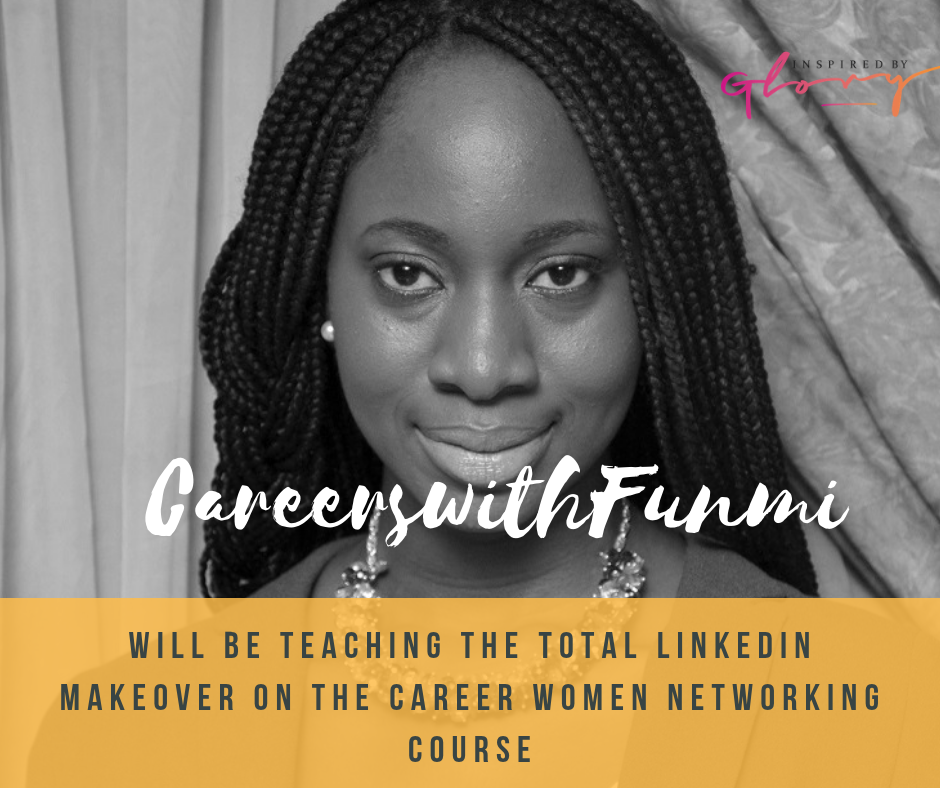 Have you been wanting to give your Linkedin profile a makeover so it can attract potential recruiters and employers? We've got you covered with our online masterclass facilitated by the amazing LinkedIn Coach and expert Funmi Kehinde @careerswithfunmi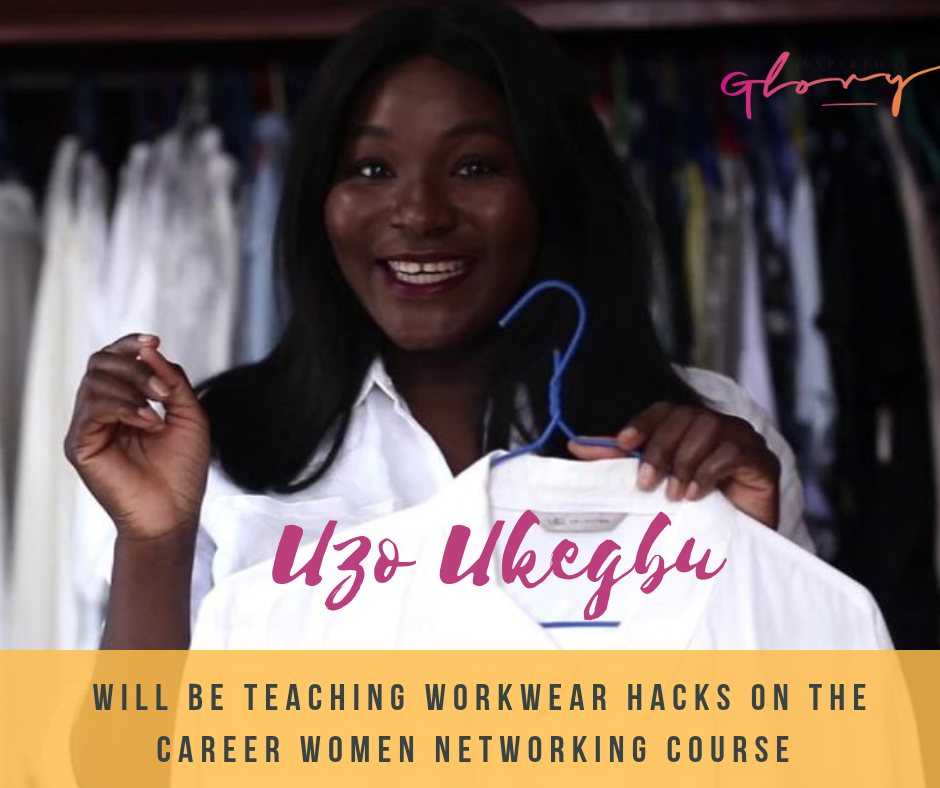 Give your workwear wardrope a complete makeover, Learn how to create a create a personal and unique style that matches your personality via our online masterclass with Uzo Ukegbu of @theankaofficial
All of this plus networking and personal branding lessons ALL delivered in one 8 week online course. We can authoritatively say there is no course that delivers this type of value right now. So take advantage and see your career grow. 
All this available for N73,500 Until 12th November when registration closes. 
Registration for the 2018 batch of the Career Women Networking Course is now closed
ADMISSION SHUTS DOWN AT 5PM 12TH NOVEMBER! THIS MEANS THAT AFTER 5PM ON THE 12TH OF NOVEMBER YOU WILL NO LONGER BE ABLE TO PAY OR BE PART OF THIS COURSE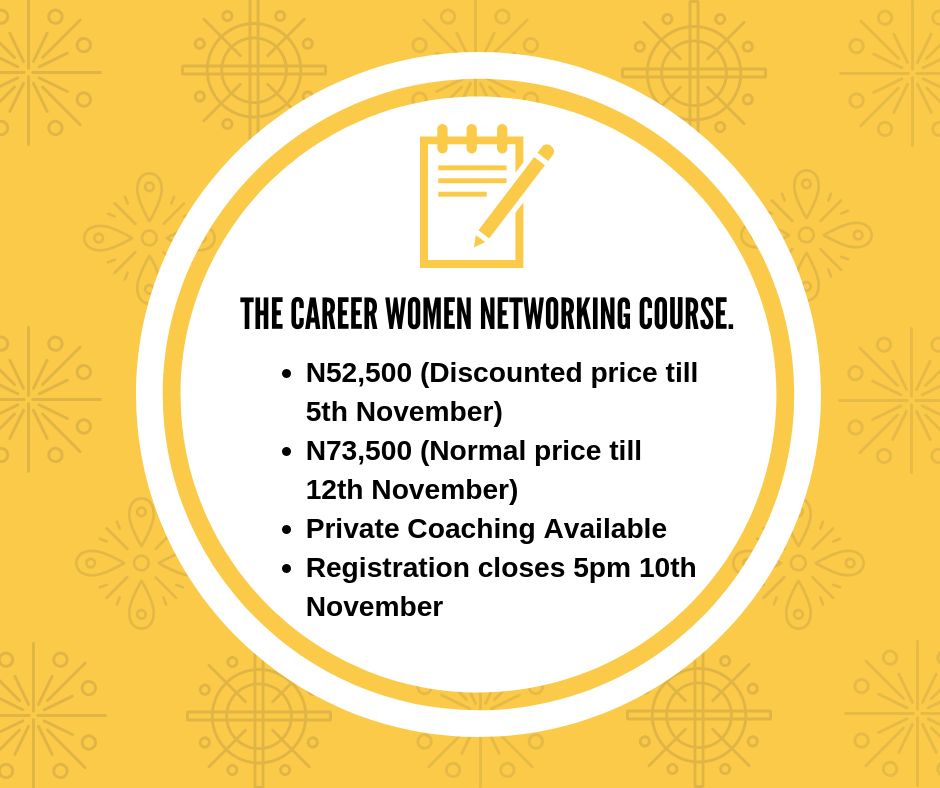 Registration for the 2018 batch of the Career Women Networking Course is now closed
PERSONALISED COACHING
Would you prefer live access with me during the course? Then maybe the personalized coaching package is what you need.
Here's what you will receive when you sign up for the Career Woman Networking Online Course personalized Coaching Programme
4 60minute one on one meetings where we will personally work through all your networking challenges and you will receive in-depth feedback on your course assignments
Review of all networking emails and interactions for 90days (including during and after the course)
Free access to one networking Event hosted by Inspired by Glory and 9to5Chick
Accountability for your career goals for 90days
For all this and other surprise bonuses for a one off payment of N200,000 or two time payment of 120,00 per month.
PAYMENT DETAILS- to register and make payment for the personal coaching programme please click here 
FREQUENTLY ASKED QUESTIONS
When will the course start?
The online course will start on Tuesday 22nd November 2018
How long will the course last?
The course will last for a period of 8 weeks, however there will be a 2 week break for Christmas and New Year which means the course will end on the 22nd of July
How will it be delivered?
The course will be delivered online via slides and voice recorded lessons. The course will also include LIVE QandA sessions via a private Facebook group where participants will also be required to submit weekly assignments.
Will I receive a certificate
Certificates will be issued to participants who complete at least 70% of course work, challenges and attendance at live sessions. There will also be a graduation ceremony at the end of the course
Can female entrepreneurs take the course
While the course is directed at career women, the examples and lessons can easily be applied to entrepreneurship. The course curator is also an entrepreneur and is more than happy to provide examples and context for business women.
How do I register and make payment for the course
Registration for the 2018 batch of the Career Women Networking Course is now closed
If you have any further questions, please do not hesitate to contact me on glory@inspiredbyglory.com