If you haven't been following our #networkingforcareer success series on Instagram (click here to follow us on instagram)…all I can say is where have you been!!!! The session features established career women sharing their tired and tested tips on networking and even some of their career development hacks! It's a must watch for the savvy ambitious female professional.
But because we love to share…we've decided to post some of the best tips shared. Today we are sharing the tops 19 networking lessons we learnt from Chinwe Egwim, Macroeconomic and Fixed Income Securities Analyst, FBN Capital.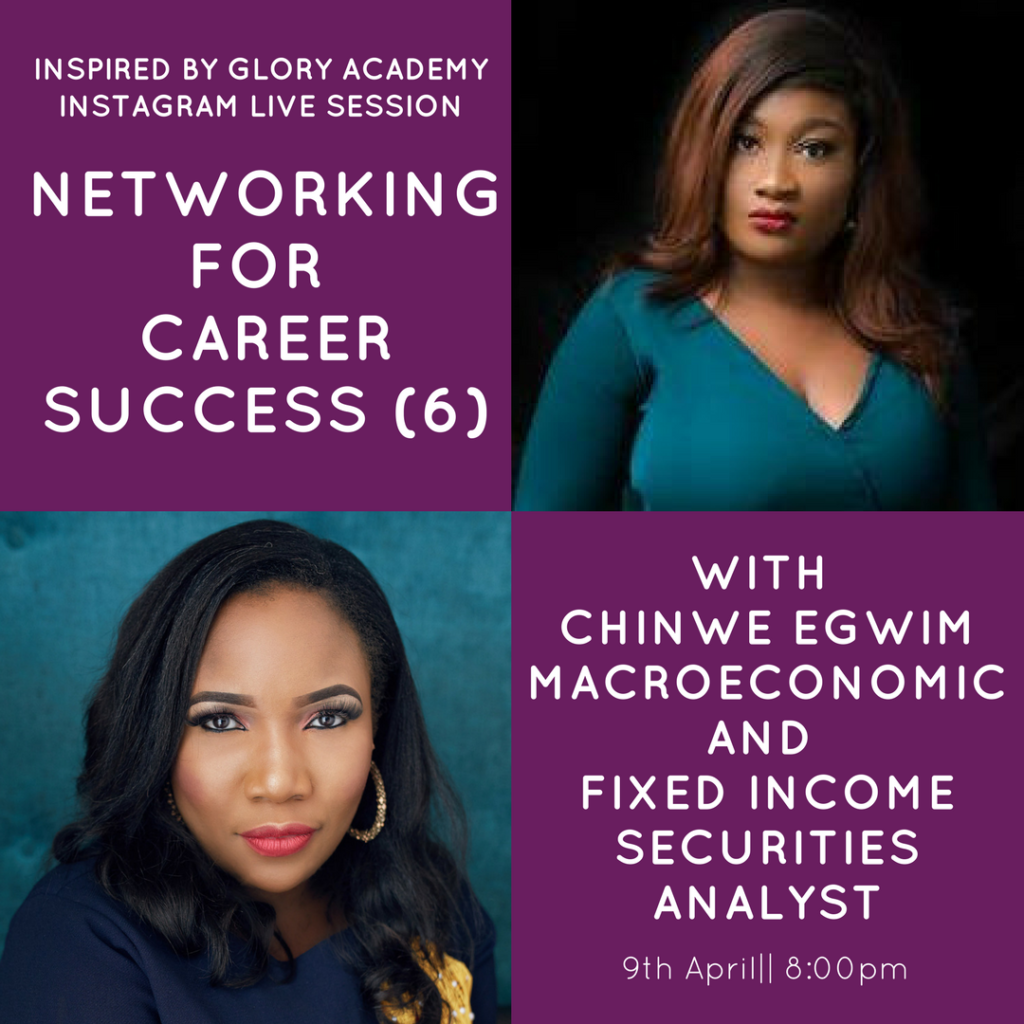 How I got my present job- I sent an email to two people in the company I work for now telling them how I could add value and when I moved back to Nigeria I was interviewed and hired
Never go to events empty- continue to develop yourself so you always have something to give.
As an introvert, there are days I don't feel like networking. When I engage too much I feel drained. So I tend to go for structured events, like wimbiz round table events and small group events.
It took me a while to realise that it was easier and better to network and build relationships with PA's, Special and Technical Assistants of VIPS, when you do this it makes it easier to get a meeting with the VIP instead of going to them directly.
Introverts give themselves a lot of excuses to avoid engaging with people like assuming the person may not want to talk to them, when it isn't true.
As an introvert always try and get one on one meetings which will be less draining for you
Self confidence is key- you need to develop a mindset that you are giving instead of collecting- be an asset not a liability.
If you find interacting with people difficult, put on a character to help you through it, like an alter ego
Keep in mind that the more you network, the better you become at it
Don't network aimlessly as a professional, always have a goal in mind
I personally do a lot of breakfast meetings because physical interaction helps to build bonds
Be particular about organic relationships not just connecting at the surface level.
Be deliberate about investing in other people
How you introduce yourself depends on the type of event. At a more formal event, when networking with my colleagues in my sector, I can be technical with how I introduce myself, but in other situations I am likely to introduce myself differently.
Networking helps you become noticeable for the good job you do.
Visibility becomes a life line as you climb up the career ladder
The fact that I invest so much in my relationships, I find that people ask me if I need anything even before I ask them
When people reject you or don't respond to you the way you like at networking events, dust it off your shoulder
Networking can help you improve your bank balance for sure. It can help get you a better paying job. If you are a career woman with a side hustle it can help you find customers.
Want to learn more about how to use networking to achieve your career goals? Then sign up for the Career Women Online Networking Course. The step by step guide on how to use networking to achieve your networking goals. Registration to the course ends on the 13th of May and after which you will no longer be able to register for the course.To find out more and to register, please click here