What a great way to start of the week. Yesterday's #RedefiningCareer event was beyond awesome!!! Special shout out to all our speakers and the audience!
A detailed summary of the event will be brought to you soon but I thought it would be great to bring a short recap of Biola Alabi's session.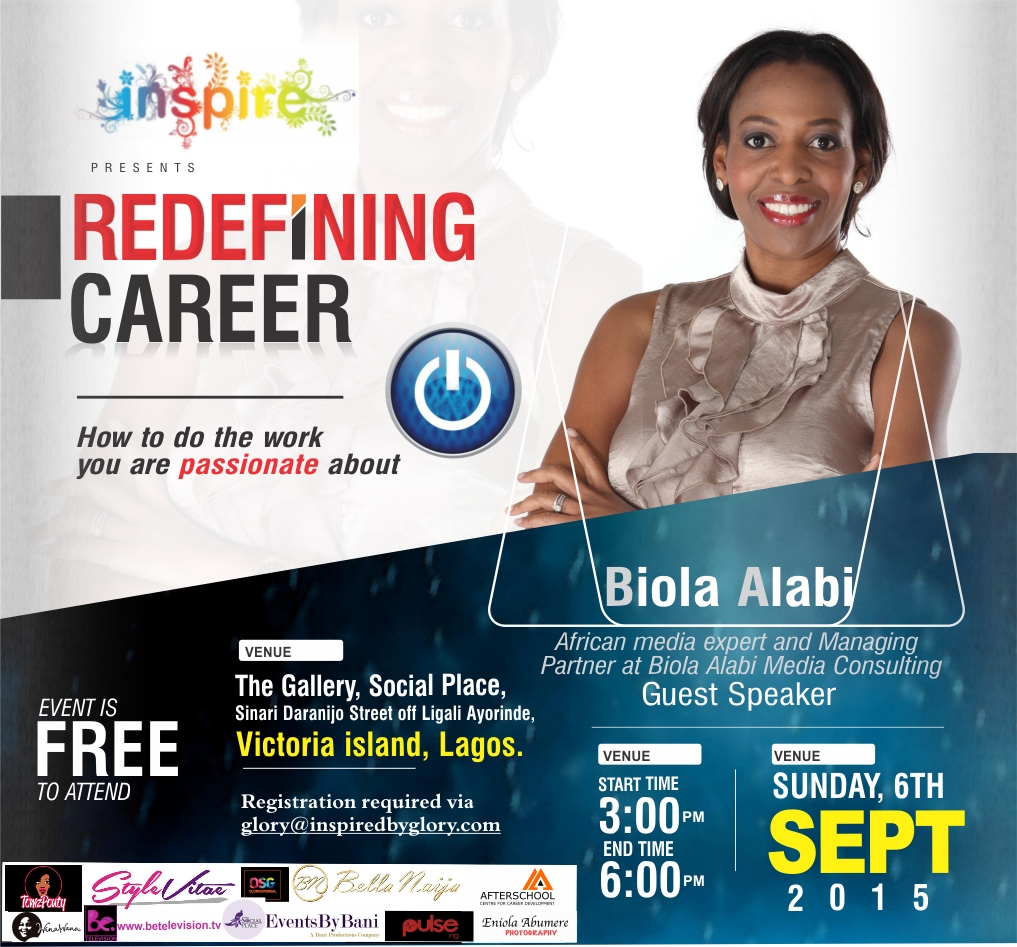 There are many things I can say about the #RedefiningCareer Master Class session by Biola Alabi but I'll refrain to only saying three things- Insightful, impactful and affirming. So many times, we look at people as finished products forgetting the journey they have taken to arrive. Biola demystified the idea of a perfect journey.
Her honesty was humbling and her story packed full with wisdom. My biggest takeaway, was that life is a journey of process and refinement. Few people are born knowing who they will become or what they will do. What most of us do is feel our way through life's ups and downs. But if we stay true to who we are, remain open to life and opportunities for feedback as well as the inner nudging in our hearts, we will eventually find our way.
I have compiled a short summary of sound bites from Biola's talk….. If you were there, please feel free to add yours in the comments section…if you weren't….sigh…you missed out!!!!
On doing what you love/passion
Ask yourself- 'What are the things I like to do and that come easy to me?'
Volunteer to help do what you love
It's not just about passion, it's about working with people who believe in your dream
If you have the opportunity to work with people that inspire you, you should
I found myself unemployed…being unemployed creates opportunities for you
If you can't find ways to do what you want fulltime, find ways to do it part time
On finding your job/career
Be a person of value
You are responsible for your own career
Ask yourself- What are my known for? How does my job make me feel?
When you know a job is not working don't stay there for too long
Don't put a ceiling on what you can do…only you defines who you are
It's your job is to let people know what you are doing
Always be honest with people you work for, let them know what else you are interested in
Continue to build your network to see how you can use that network to help others
On feedback
…Learn to take rejection
You need people to help frame what you can do, let people tell you what you are good at
If you are working for the right people, they will tell you when you have reached a point in your life to move on to something else
Ask people you trust to give you feedback
As long as you listen to feedback you are going to find your way
On perseverance
Always have faith and have hope
Even when you don't love what you do, do it and do it well
Keep doing what you are doing, you never know who is watching or reading your work
Don't be afraid to pursue curiosity…know that these situations are always adding up to something
On Life/society
Stay learning, never underestimate the power of learning
We have to start celebrating people who are making meaningful contributions to society
On Money
Don't make money your primary consideration
On being a woman
People are quick to put a woman in front of a camera and not on a Board where decisions are made
Balance means different things to different people. Find out what it means for you and discuss it with your partner