More women are entering into the entrepreneurship space than ever before, either as full time girl bosses or via their side hustle. We love it and we want to see more women own their position as girl bosses. Our Girl Boss feature has two aims, the first, highlight the amazing women pushing forward Nigeria's economy and secondly, to create opportunities for other women to learn just what it takes to be a girl boss.
Starting at the beginning
IBG: Tell us a bit about your business
TA: Bibi's Grillhouse is an offshoot of Bibi's Cottage Catering Company. We provide catering services for social and corporate events, schools and bulk orders for home use. Our first store is located on the second floor of the Maryland Mall in Lagos. We pride ourselves in offering delicious, healthy, grilled and peppered treats. You can also indulge a little with our pizzas and hotdogs.
IBG: How did you decide on your product/sector/service, especially on the price point?
TA: Deciding on my product, which is largely food, was quite easy. Cooking and various types of food appeal to me. I am very adventurous when it comes to food. Fortunately, I married a man who is very adventurous with food as well.  We are always looking out for the newest food place in town and we spend most Sundays watching the Food Channel…lol.
I had always cooked for friends' birthday parties from my days at the University of Ibadan.  When I left paid employment, (I worked as an environmental consultant), I accidentally stumbled on an opportunity to cater for a financial services company because I had dropped off some food for a friend who was unwell at that time. It was an unplanned start to the business but from then on, I have happily been on the food train.
Setting up Bibi's Grillhouse was a decision we came to rather quickly because it is an under-served QSR niche. Many Nigerians have joined the fit-fam wagon and now prefer grills to the fried foods that we are used to.
The pricing however is a different ball game in this economy. Prices have gone up significantly and I have had to review prices to reflect this harsh economic reality. We keep looking for ways to ensure that customers get value for every naira spent.
IBG: How do you build a successful customer base?
TA: This is an interesting question because building a customer base has been largely through word of mouth/referrals. I guess I have earned the bragging rights to say that a good product advertises itself. It is as simple as that. God, consistency, Integrity and good service are the keys. I say God first because all man can do is plan and wish but it is God that helps to make our work fruitful and productive.
IBG: What was your first major challenge and how did you overcome it?
TA: This question takes me back to pricing. My first major challenge was that of pricing. As I said earlier, I was thrown head on into starting the business when I had not concluded planning. That can be both good and not so great. Good because now you are in it and you have to sink or swim and not so great because you have to learn on the job and learn pretty fast. I undercharged my customers a lot because I had previously only cooked for family and friends free of charge. I was inexperienced at pricing.
I did not factor in all my costs because I was working from home. I was the procurement officer, cook, driver, delivery lady, accounts officer and manager. All of that changed when I had to hire people, pay them and pay bills, I realized very quickly that I was working so hard but was not making money. Customers thought our products were good and very cheap but no one told me to increase my prices…lol. I always wondered where all the money went but I learnt fast and adjusted my prices accordingly.
IBG: How did you get the seed capital for your business? How did you obtain investors for your venture?
TA: I needed very little initial seed capital because the business at that time was unplanned. The few things that I needed to buy were food packs and some chicken. Every other item was taken from my freezer or store at home. That was the easy part. Growing the business however has needed some investment which has come mainly from family.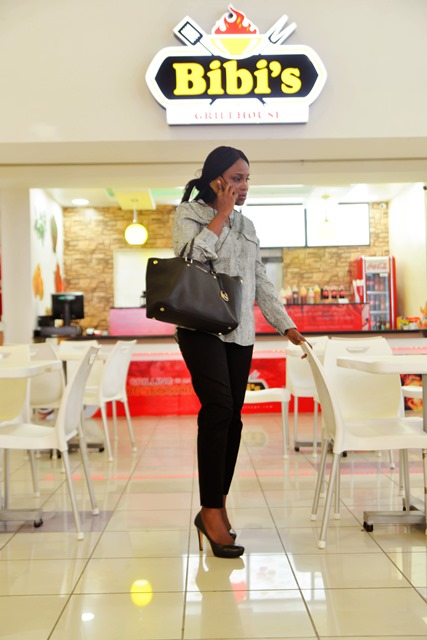 The business of entrepreneurship
IBG: How do you stay competitive?
TA: We stay competitive by making our customers feel like family. Most of the customers we have become friends. The fact that you can watch while your order is being made also gives people the confidence about our standards and level of hygiene.
IBG: How do you go about marketing your business? What has been your most successful form of marketing?
TA: We market using social media and flyers mainly. Word of mouth and referrals have been the most successful form of marketing for us. To maximise our location at Maryland Mall, we are working with a PR company to assist in moving things to the next level.
IBG: What kind of culture exists in your organization? How did you establish this tone and why did you institute this particular type of culture?
TA: Employee welfare and satisfaction is a key driver of performance. We try our best to maintain an atmosphere of mutual respect and an open door policy. We welcome ideas from all members of our team because winning ideas can come from the mouths of the least expected people. We listen, deliberate and implement the idea if found viable and that team member gets a commendation. We also have a reward system for various attributes.
IBG: As you started to scale up your business what major challenges have you faced and how have you solved them?
TA: Delegation has been a major challenge. I love to be on top of things to have them done the best way. Having to step back and let others do it is something I had to learn. One cannot grow without letting others develop their strengths whilst managing their weaknesses.
Motivation and inspiration
IBG: Who has been your greatest inspiration?
TA: Permit me to mention two people who inspire me daily. My husband, Sola Adekunle and my sister, Yinka Morakinyo. These two people inspire me greatly even though they might not know it. My husband, because he is unrelenting and dynamic. He sees possibilities and opportunities all around him. He is always striving to know more and do more. He is a bank of ideas and is constantly looking for results.
My sister, because she makes lemonade out of every lemon. She never sees a dead end; she would rather drill through or take a quick detour. She never takes no for an answer and always looks for how to make the best out of even the poorest situation.
IBG: What book/movie has inspired you the most?
TA: The Click Moment by Frans Johansson.
IBG: Innovation is key to business success. What was the last innovative idea you had and how did it transform your business?
TA: Opening Bibi's Grillhouse in the Maryland Mall is our most recent innovative idea. Including grills on our menu is a new segment of our business and we can see that it has opened us up to a new line of endless opportunities.
IBG: What has been your most satisfying moment in business?
TA: The moment when the business could afford to pay its own bills and contribute to its own expansion and growth. That was most satisfying.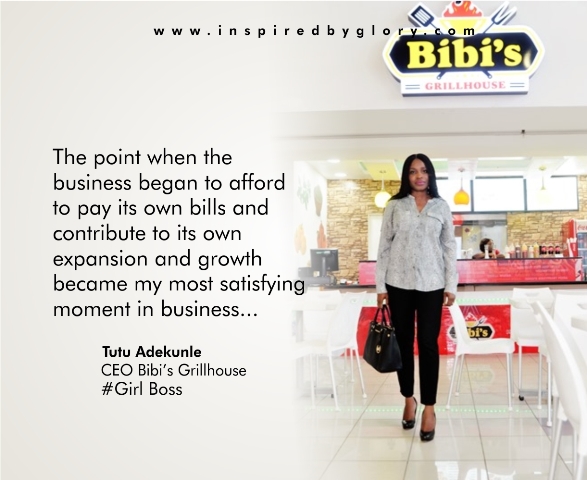 Girl boss life style
IBG: What is your favourite aspect of being an entrepreneur?
TA: The opportunity to be original and build up my idea. I also love being able to contribute to Nigeria's economy, train and develop young people who will hopefully do the same for others.
IBG: In one word, characterize your life as an entrepreneur.
TA: Anticipation
IBG: What sacrifices have you had to make to be a successful entrepreneur?
TA: Working nights and having very few weekends or public holidays off. Doing without some luxuries.
IBG: What are some of the biggest mistakes you've made?
TA: Getting my pricing wrong. Doing it all by myself, not delegating where necessary.
IBG: Share with us your daily morning ritual.
TA: God time, get family and myself ready, drop off kids at school, get into my to-do list for the day and start knocking them off one by one.
Close out
IBG: If you could start your business over, what would you do differently?
TA: I would delegate more. That would have freed up my mind to get the bigger things done quicker. However, generally speaking, life is not about regrets and every experience has taught me a valuable life lesson.
IBG: What is your greatest fear and how do you manage fear?
TA: Not using all the talents that God has given to me. I manage this by checking my plans against my goals often.
IBG:  Advice for aspiring entrepreneurs?
TA: Believe in yourself. Know you can do it. Learn the ropes of your business. You need it to succeed. Be dogged and consistent.