Meet Emilia
Emilia has vast experience in corporate sustainability and responsibility, environmental and social risk management and "environmental, social and governance" (ESG) implementation.
She began her career as a consultant on corporate social investment (CSI) initiatives for the African youth demographic. For six years Emilia facilitated relationships with private organisations and key government arms including:
Federal Ministry of Youth Development
Office of the Nigerian Vice President, Edo, Lagos
Ondo State Governments in Nigeria
World Bank/IFC
the African Union Department of Youth.
In July 2010, Emilia started ThistlePraxis Consulting Limited as Managing Consultant responsible for the brand blueprints, setup and rollout of operations.
She supports the company's wide range of clients as in-house lead on strategy overseeing business development, client service supervision and external relations.
In addition, she leads major projects for the organisation for financial services, development communications with Cross River State Government and works with the company's faculty of experts across the world.
At the same time, Emilia is the Editor-in-Chief of CSR Files™, a registered trademark, which represents ThistlePraxis' information and resource products.
She has huge experience of culture, corporate communications, media strategy, development communications and all aspects of media production – print, electronic and digital.
IBG: Why do you do what you do?
EA-I: This is interesting because I have never really given it deep thought. I think because it keeps me sane or happy or alive. I love not because I have never been hurt but because not loving will make me more miserable. Hope that was not too poetic!
I enjoy my job, passionate about my businesses and drawn to the additional consulting work I do. I multitask or work on multiple projects each time because I believe my brain functions better that way – switching from one problem to another until I 'hack' them all – not because I am a workaholic like many believe.
IBG: What motivates you?
EA-I: Bringing ideas to life. No matter how stressful a project is, the satisfaction on my clients' faces, messages to say well done or thank you or just watching from behind as that random idea or thought I hurriedly scribbled takes a life of its own and makes an impact is sometimes all I need to keep going. And this is perhaps only second to the value of the invoice.
IBG: How do you define success?
EA-I: Success is relative. I will attempt in 3 ways:
First, success is earning your stripes by hewing a body of work nobody can ignore. I have been greatly inspired by a book by Cal Newport, 'Be so good they cannot ignore you'. I recommend this to any young person who is serious about making a mark in life and not just staying within the comfort zone of passion.
Second, success is a sense of relevance and fulfillment, governed by the thought that your work does matter to your clients, organisation, colleagues or space – no matter how small. We often ignore relevance but I have learnt it is very important. Fulfillment comes from knowing that you delivered your best for a brief or deliverable. It may not be the best in the world but as long as it was your best effort, nobody can steal that essence from you.
Finally, success is attaining comfort – not in luxury or being able to afford the most expensive items – but in living within your means i.e. financially. I like to think that it is a level where your income, resources and benefits are well managed such that you do not go stranded (hopefully with some savings, where possible) and can make plans barring any drastic unforeseen circumstances. So many people are comfortable, even in the absence of wealth or ostentatious living, because of dependable sources of income (no matter how small) to meet life's basic needs.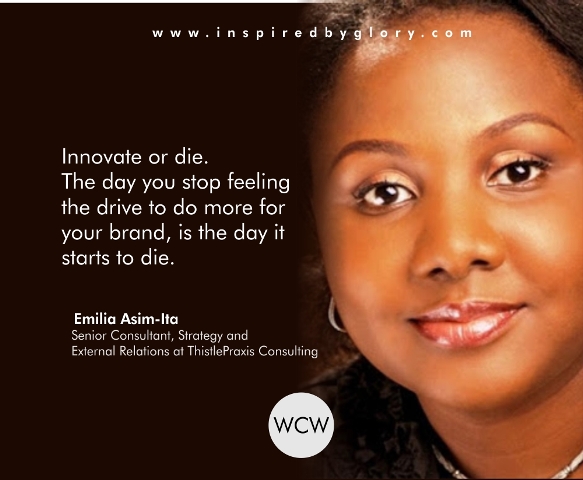 IBG: What keeps you grounded?
EA-I: My mother's warningJ! On a serious note, it is a sense of urgency – that what must be done, must be done as soon as possible. A sense that life can be too short, even if lived for 100 years and that no matter what heights were attained today, they may become irrelevant, forgotten, or disrupted tomorrow. So, we all must continue working and reinventing daily without becoming too complacent or resting on our past glories.
IBG: What has been your biggest entrepreneurial challenge and how have you surmounted it?
EA-I: This is a tough one…shutting down a media business barely a year after set up to pursue another business interest in management consulting that didn't break even until the fourth year. It was really tough and I certainly cannot explain how we survived it. I am not sure we have surmounted it because the business keeps expanding and the service industry is most susceptible to disruption and impact of economic downturn, such as the country is currently experiencing. So, we are constantly reviewing and tweaking our portfolio of services to offer the best value and service quality.
IBG: What has been your biggest success?
EA-I: I would say that three times I have ventured into emerging industries and three times I have made a mark or perhaps just been lucky. My brands are my biggest success – those I birthed, those I have nurtured, those I continue to grow – either alone or working with members of diverse teams.
IBG: What advice would you give to entrepreneurs?
EA-I: Innovate or die. The day you stop feeling hungry for more for your brand is the day it starts to die.