There's hardly anyone who likes to wait, especially if you live in fast-paced cities such as Lagos or New York. From cars honking  once the traffic light barely turns green to the brisk paces of pedestrians, we all tend to enjoy being on the move. So, it's usually unwelcome when some sort of delay comes into the picture. When there's an accident, for example, that causes a logjam in traffic, most people find it nearly unbearable.
The same is true in our own lives. Most times, not only does society have expectations of us, but we also have expectations of ourselves. Sometimes, we may even go as far as setting timelines for our lives – wanting to achieve certain things by this age or that. But then, as it usually does, life happens. And we find ourselves in a season of waiting.
I believe that along the journey of life, we will have seasons of waiting. Waiting to get your dream job. Waiting for the promotion. Waiting for the business to break through. Waiting to have children. Waiting for the children to grow up so you can pursue your dreams with vigour. Waiting for time to ripen for certain opportunities to come to fruition.
Naturally speaking, waiting can be a pensive and frustrating time. But it can also be a productive time if you are conscious of the good that can come out of the season.
1. You learn to relinquish control: With so much motivational teaching, as a generation we want to take charge of our lives and run our lives in the directions we deem fit. When things do not go as planned, sometimes, it's God's way of telling us to hand over the reins. He is ultimately in control of our lives and has a plan for us. We find peace when we stop fighting and choose to allow Him lead us.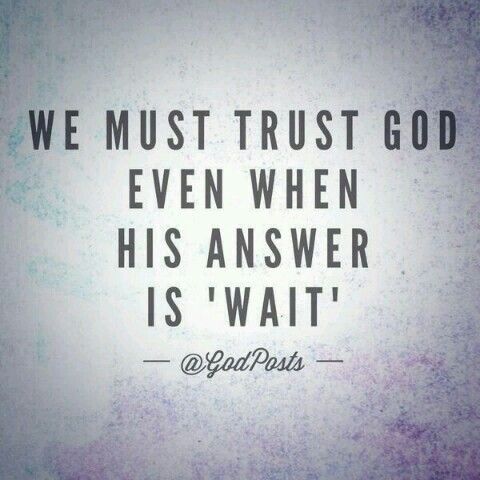 2. You keep getting prepared: In seasons of waiting, there are lessons we learn that we definitely would not pick up any other way. We learn to be diligent, to receive validation from within, to walk alone in trying to fulfill purpose and so many more. The lessons you learn are peculiar to your place in life and your walk with God. These lessons will definitely come in handy when you get to the 'Promised Land'.
3. You learn contentment: I love how Joyce Meyer expresses this thought – Enjoy where you are on the way to where you're going. You have to be joyful now! You can't sit around waiting till your dream comes true before you're happy. Be happy now. Celebrate the things you have going for you now. It is in this happy space that you'll see light for the next steps you need to take. Sadness and inspiration don't go together!
Nature shows us that no matter how long and how hard the sun glares on the earth, one day, the clouds will roll over and drops of water will kiss the earth. Rest assured that one day, seasons will change. You will wear the graduation gown. You will hear the running of little feet across the house. You will sign cheques with multiple zeros. Your dreams will come true in time. So just wait!