So by now you should know that 9to5chick is all about empowering career women with the skills to succeed in the work place and life in general! That's why we have created the power breakfast series, an intimate time of learning, development, sharing, networking and off course…FUN!
To kick of the series it was important for us to achieve two things.
The first, focus on a topic whose importance resonates with every career woman- check!
And the second find a high level career woman whose career growth is not only tested and trusted but who can also clearly share her tried and tested strategies with others- CHECK!
It is our pleasure to invite you to join us for the maiden edition of the 9to5chick power breakfast series with the amazing Aishah Ahmad, (CFA, CAIA). Head, Consumer Banking & Wealth at Diamond Bank and Chairperson WimBiz, as she discusses Smart Moves-Strategies for Career Development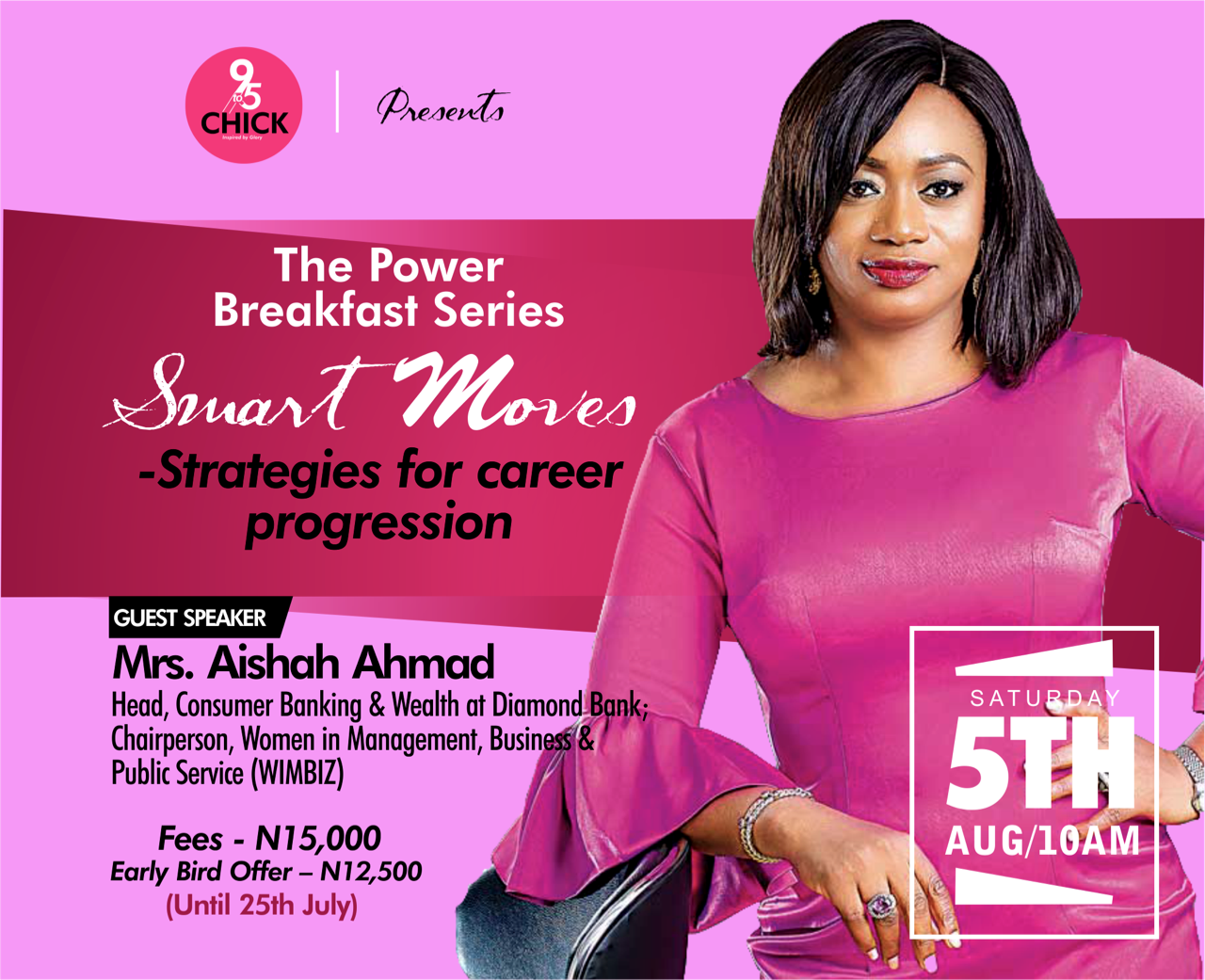 Attendees at the workshop can expect to learn the following
Strategies for intentional career growth
key skills to ensure you stay valuable in your current and future roles
The balance between being a team player and standing out in the workplace
Career branding and 'smart'career skills
And much more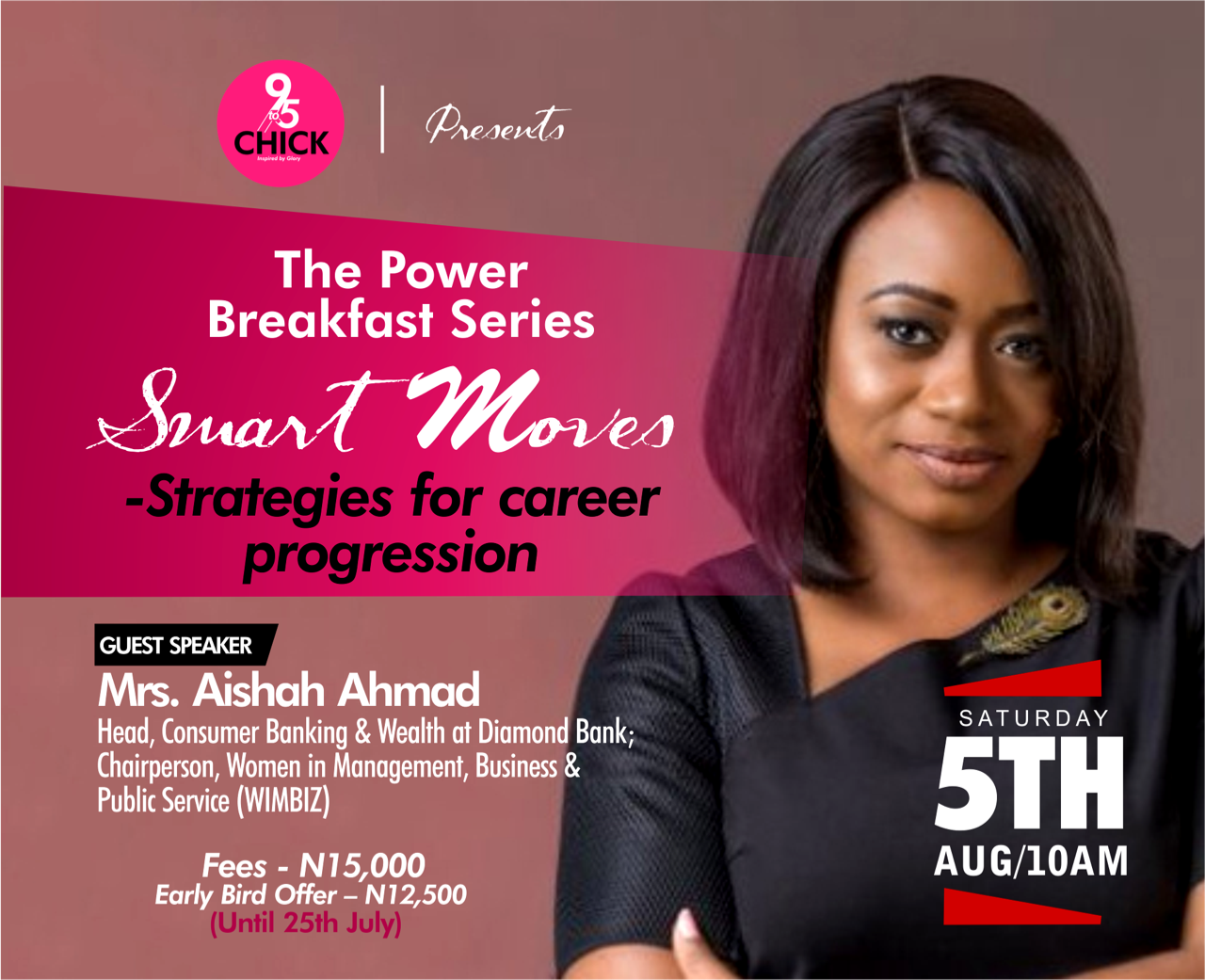 Meet Mrs. Ahmad
Aishah Ahmad is Head Consumer Banking at Diamond Bank PLC. She has responsibility for strategic retail products and customer segments including consumer banking, private wealth management, direct sales agent network with a customer base of over 5 million. Her professional experience spans 20 years and includes global financial institutions such as Stanbic IBTC Bank PLC -a member of Standard Bank Group, where she was responsible for Standard Bank's private wealth business in West Africa, Bank of New York Mellon (UK), Zenith Bank PLC and NAL Bank PLC. A member of the Chartered Financial Analyst (CFA) and Chartered Alternative Investment Analyst (CAIA) Associations – both globally recognized programs for investment analysts and portfolio managers, Aishah holds a M.Sc. in Finance and Management from the Cranfield School of Management in the United Kingdom, an MBA with a specialization in Finance from the University of Lagos, Nigeria and a graduate degree in Accounting from the University of Abuja, Nigeria
She is currently the Chairperson of the Executive Council of Women in Management, Business & Public Service, WIMBIZ (www.wimbiz.org); a leading women-focused not-for-profit organization in sub-Saharan Africa. She is also a member of the steering committee on Cherie Blair Foundation's, Technology for Growth project; a groundbreaking learning intervention programme for female entrepreneurs in Nigeria, and was an alternate director at Friesland Campina WAMCO (2010 – 2014), a global company in the dairy industry.
Details are as follows
Venue- Victoria island, Lagos (exact location will be shared with registered participants)
Date- Saturday 5th August
Time- 10am
Fee- early bird offer 12,500 valid until 25th July. 15,000 after.
To register- Please complete the registration form here
For more information- email 9to5chick@inspiredbyglory.com
About 9to5chick- 9to5chick is a career development platform for professional women providing essential career development skills and learning opportunities. It is a product of the Inspired by Glory Academy.