Are you tired of ending the year and wondering what you achieved? Do you want to find the secret to staying consistent with your goals and learning how to set goals that align with your life's purpose? Or perhaps you want to learn how to set realistic goals with workable action plans and time frames? Well the #My2017Goals Workshop How to Build the Life you want is for you.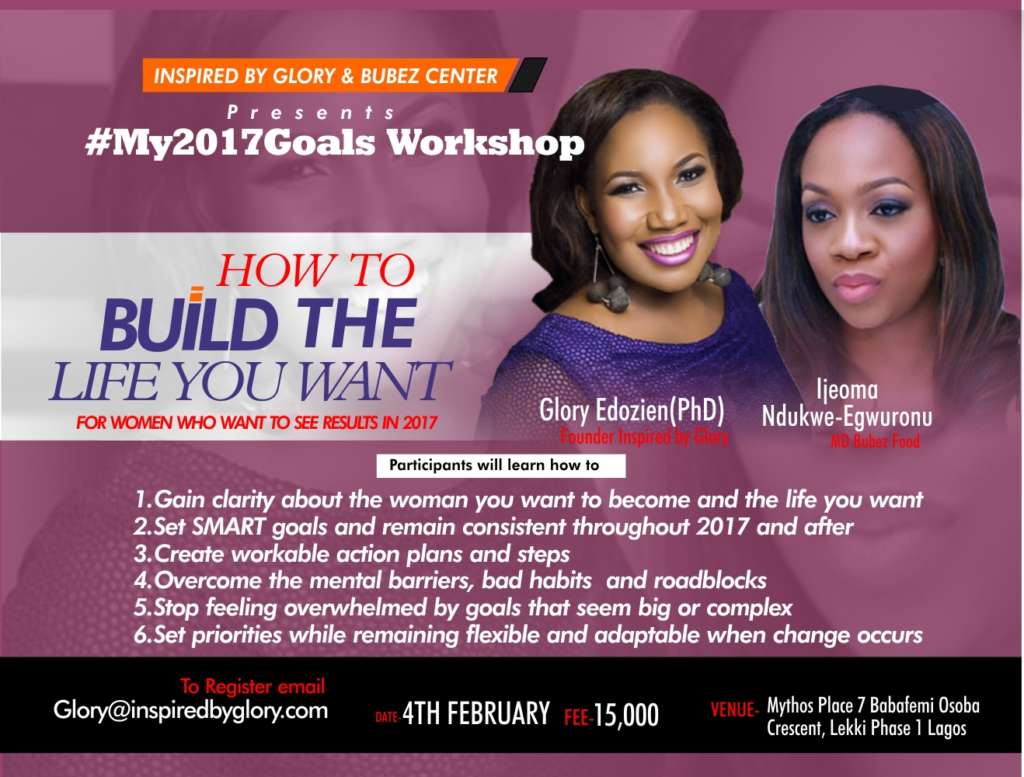 The #my2017goalsworkshop is a premier goals setting seminar which helps you move from seeing goals as merely a wish list to an active action plan for your life. By asking participants in-depth and self searching questions participants are able to not only create a road map for their lives but also count the costs towards achieving set goals.
The workshop features two dynamic, powerful and influential speakers- Ijeoma Ndukwe-Egwuronu the Chief Executive Officer of Bubez Foods, a leading Nigerian food processing company and Glory Edozien (PhD) the founder of Inspired by Glory a personal development and lifestyle platform for career women and female entrepreneurs. Through this workshop, these woman aim to empower women with the knowledge, tools and confidence to turn their ambitions into actions and reality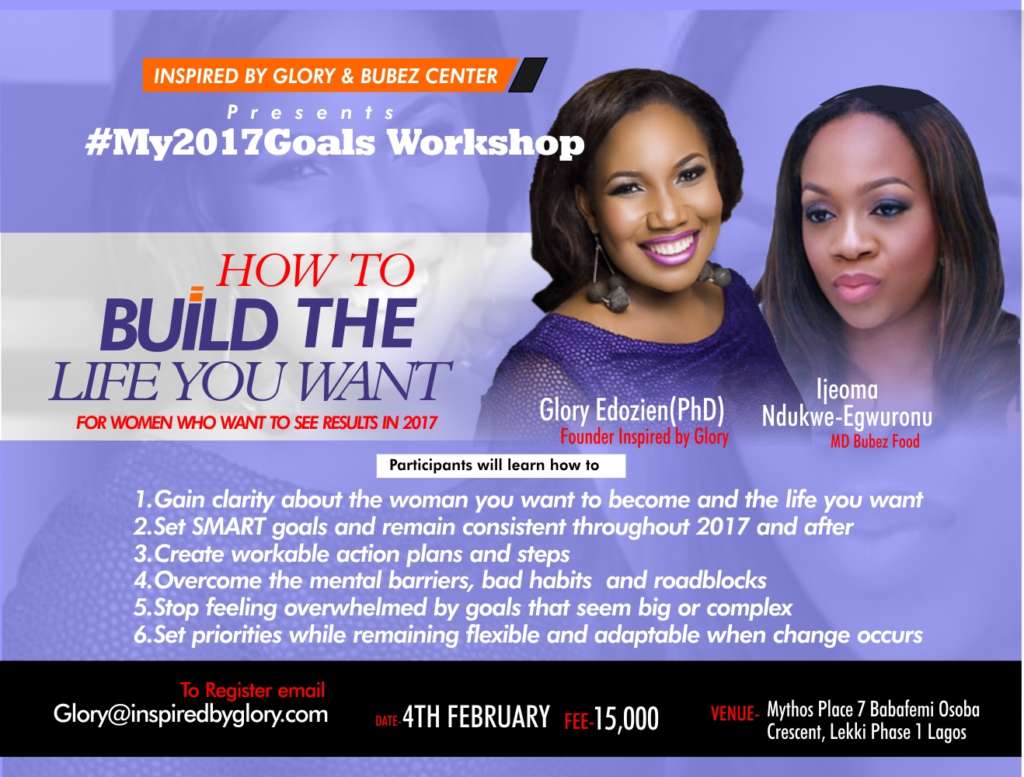 Participants who attend can expect to learn how to;
1. Gain clarity about the woman you want to become and the life you want
2. Set SMART goals and remain consistent throughout 2017 and after
3. Create workable action plans and steps
4. Overcome the mental barriers, bad habits and roadblocks
5. Stop feeling overwhelmed by goals that seem big or complex
6. Set priorities while remaining flexible and adaptable when change occurs
About the speakers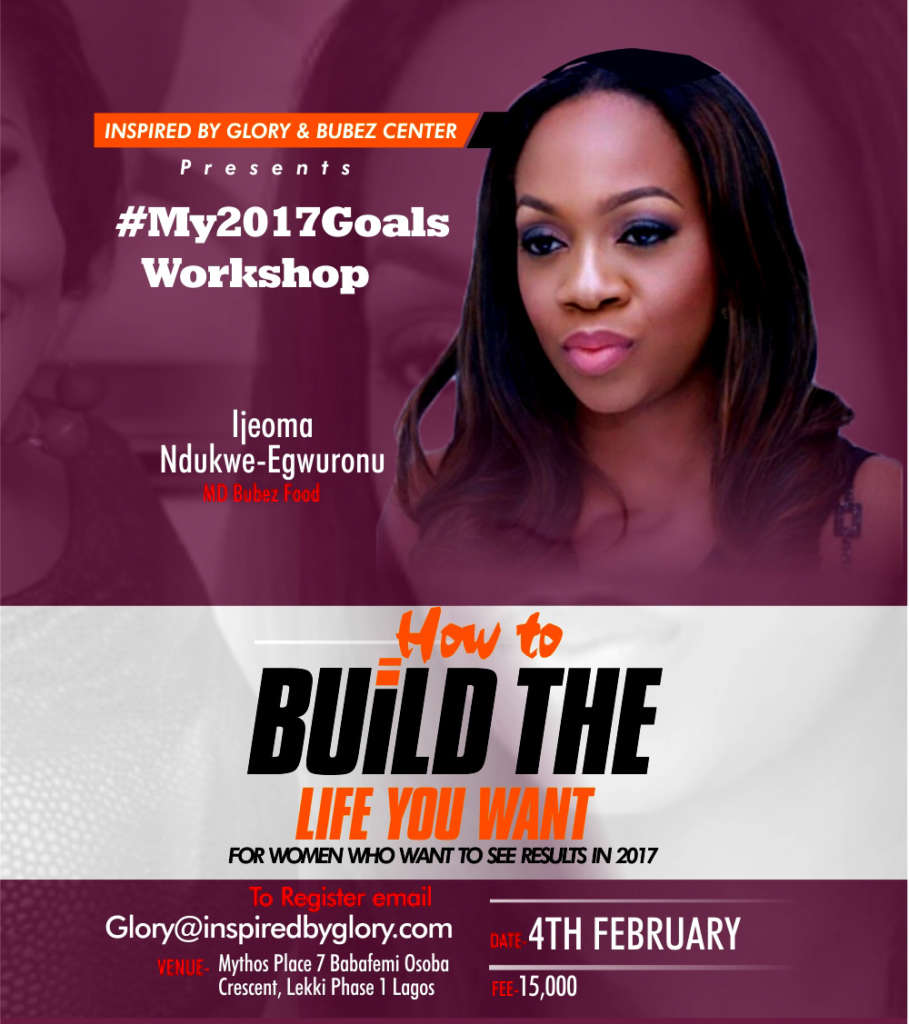 Ijeoma Ndukwe-Egwuronu is the MD and CEO of Bubez Foods a food processing and packaging company with its head office in Abuja. Bubez Pap, the flagship product of Bubez Foods, is an extra-fortified pap available in 12 different varieties. After starting her business in her kitchen, today Bubez foods presently records 9 figures in Investments and 7 figures in Sales, a 343% increase in sales since opening its factory in June 2015 and a growing network of 80 vendors selling across 8 States in Nigeria with demand from outside the country. Following her phenomenal success, there has been an increasing demand to extend her entrepreneurship knowledge, skills and mentorship to women looking to walk down the business path, especially in the midst of economic and employment challenges.
In addition to her entrepreneurial success, Ijeoma also established the Bubez Centre for Women Empowerment with the aim to reduce poverty and mediocrity, thus, fostering sustainable development in Nigeria.
Glory Edozien(PhD) is the founder of Inspired by Glory. a personal development and lifestyle platform for women. She holds a PhD in Real Estate and Environmental planning from the University of Reading, UK and is a Certified expert in climate change and renewable energy finance from the Frankfurt School of Finance & Management (Frankfurt School) and the United Nations Environment Programme (UNEP) collaborating centre. She is also an alumni of the World Economic Forum Global Shapers and was recently listed as one of the 100 most inspiring Nigerian women in Nigeria by Ynaija (2016)- a list which also includes Arunma Oteh, Ibukun Awosika and Chimamanda Adiche. Glory is part of the pioneer set of Grooming for Greatness fellowship which aims to create a pipeline of African leaders.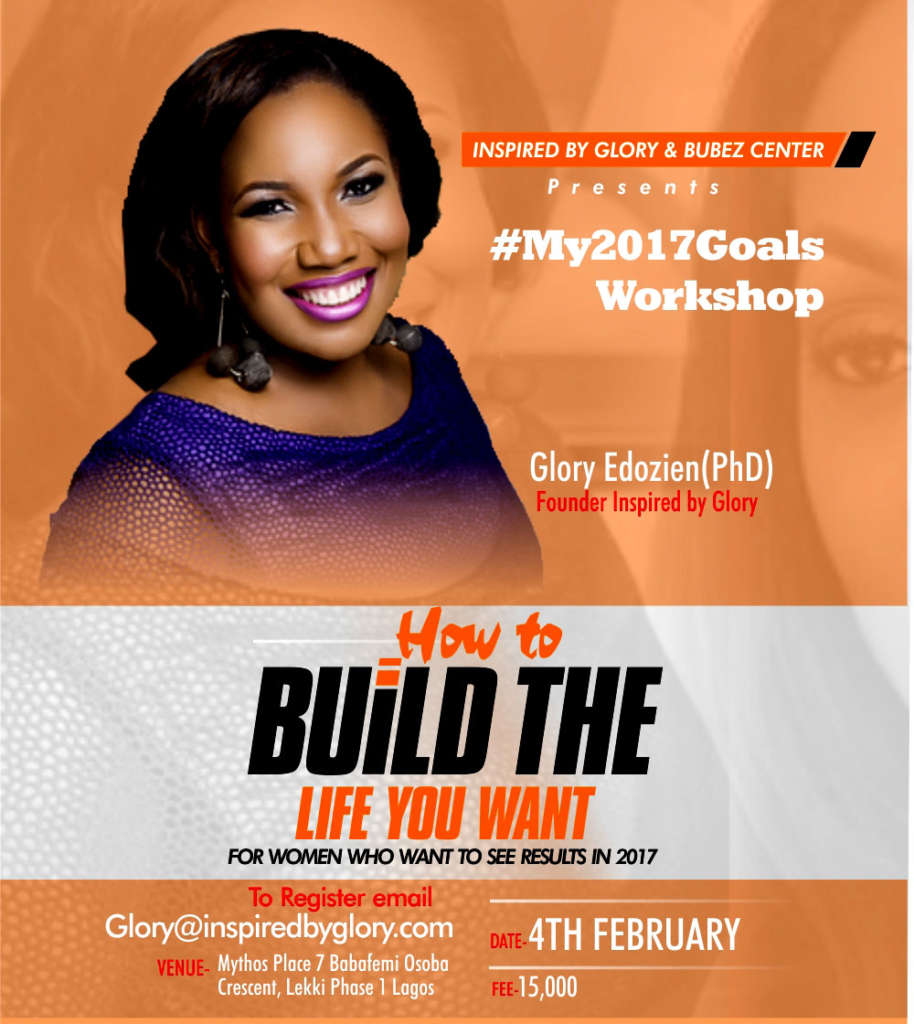 Glory is a versatile writer and speaker on climate change and environmental policy and women empowerment, self love and personal development. Her popular columns in Guardian Woman and Bellanaija.com are targeted at challenging the status quo and perceptions which prevent women from reaching their potential. Since its inception, Inspired by Glory, has provided training for over 300 women in the area of personal finance, career development and inner beauty and confidence.
This is an event you definitely dont want to miss
Event details
Venue-Mythos Place, 7Babafemi Osoba Crecent, Lekki Phase 1 Lagos
Fee-N15,000 flat
Date-4th February
To register please complete registration form here- https://goo.gl/forms/2CvihtPXVcBXYXjH3
Or email Glory@inspiredbyglory.com